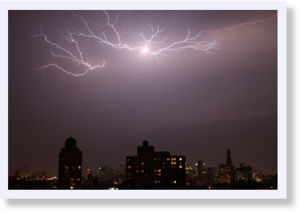 A freak autumn storm turned parts of the city into a winter wonderland on Monday night, pounding some of Brooklyn and Manhattan with hail the size of quarters.
The ferocious front blew in out of the east, hitting the city at about 8:30 p.m. and prompting multiple severe storm warnings and flash flood warnings.
Joann Binns, 61, of Manhattan, said she was pelted by hail a quarter-inch in diameter.
"I started running. There were ice stones," said Binns, who sought shelter under the marquee outside Madison Square Garden. "They hit me and I said, 'I'm outta here.' They hurt."
The storm prompted transit officials to reroute the F subway line and suspend the G line because of station flooding. The wicked weather also delayed the Jets' game against the Minnesota Vikings in the Meadowlands for 45 minutes because of lightning.