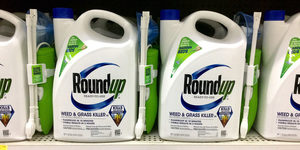 Another day, another lawsuit against global seed and chemical giant Monsanto Co. In
a complaint
filed Tuesday in federal court in Wisconsin, six consumers alleged that the company's top-selling Roundup herbicide has been falsely promoted as uniquely safe when it actually can have profound harmful impacts on human gut bacteria critical to good health.
The lawsuit, which also names Roundup distributor
Scotts Miracle-Gro Co
. as a defendant, specifically alleges that consumers are being deceived by inaccurate and misleading statements made by Monsanto regarding glyphosate, the active weed-killing ingredient in Roundup. Plaintiffs include residents of Wisconsin, Illinois, California, New York, New Jersey and Florida.
Glyphosate, which Monsanto introduced as an herbicide in 1974 and is widely used in growing food crops, has been promoted for years as a chemical that kills plants by targeting
an enzyme that is not found in people or pets
. The lawsuit claims that assertion is false, however, and argues that research shows glyphosate can target an enzyme found in gut bacteria in people and animals, disrupting the immune system, digestion, and "even brain function."