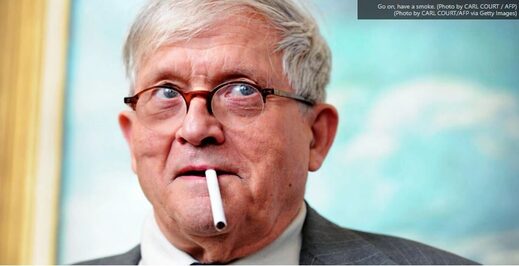 The English want to ban smoking — I'll take my chances
I will be 84 next month — even though I have smoked since I was sixteen. I started with five Woodbines and now I smoke Davidoff magnums which I have to get from Germany.
I recently told my doctor I smoke twenty a day, then about ten in the evenings — and I try and keep it down to five during the night. I also told him that I have had three doctors in the last fifty years. Each of them recommended I give up.
But each of them has now died; the last one only a year older than me.
My new doctor laughed and said nothing. He has a good sense of humour.
My father was a very keen anti-smoker, but he died at 75 because he ate too many chocolate biscuits. He was a diabetic who would walk up the street to buy a packet of chocolate biscuits and then eat them all in the park. This caused him to go into comas, which he did once too often and died of a heart attack in the hospital. He knew that going into a coma damages your heart, but he was a lot more worried about the smokers.
I knew this was completely irrational, but I also knew that he wasn't alone. One of the reasons I moved to Normandy was because there are many people in England like him who are now trying to ban smoking. All of them are humourless bossy boots.