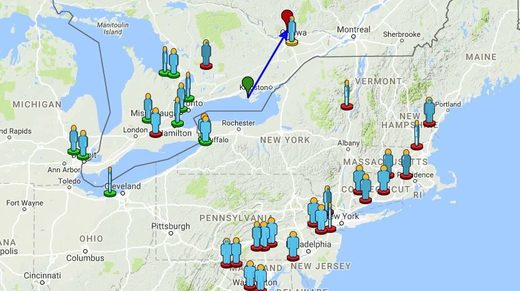 A fist-sized fireball flashed in front of Lori Connolly's car as she drove to work early Wednesday morning.
"Crazy, right? I'm driving and it was right in front of my car. It just came right across the road," the Haverstraw resident said. "It was just an amazing thing to see."
After some investigation, and a call to Columbia University's Lamont-Doherty Earth Observatory in Palisades, Connolly learned that it was, in fact, a meteor.
The object Connolly perceived as a fireball traveling across Route 9W at about 6:20 a.m. was seen across the Northeast, according to an online event log maintained by the American Meteor Society. There were 34 sightings from as far away as Michigan and Ontario that were logged by the AMS.
Connolly said the meteor "dissipated" as it crossed the road but, in fact, that was a trick of the eye. What she perceived as directly in front of her car was quite a bit farther away.
"We looked into this, and discovered that a large meteor did light up in the atmosphere roughly between northern Lake Erie and Ottawa at this time," said Kevin Krajick, Lamont-Doherty's senior editor for science news. "It was seen from Michigan to Virginia."