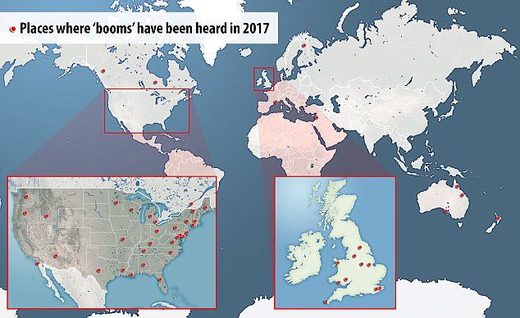 Residents in Alabama were left baffled last week when a loud boom resounded across much of the state.
The boom, nicknamed 'Bama Boom', has left experts stumped, with suggested causes ranging from supersonic aircrafts to meteors exploding in the atmosphere.
This isn't the first time that the mysterious sound has been heard, and incidents are becoming more frequent according to some reports.
This year alone, similar noises have been reported 64 times this year, in locations including Michigan, Lapland, St Ives, Swansea and Yorkshire.
Alabama, November 14
Cause: Unknown, suggested explanations include a sonic boom from an aircraft or a meteorite
The
Birmingham National Weather Service
tweeted: 'Loud boom heard: we do not see anything indicating large fire/smoke on radar or satellite; nothing on USGS indicating an earthquake.'