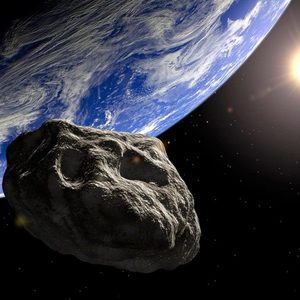 A space rock now designated as asteroid 2017 OO1 was detected on July 23, 2017 from the ATLAS-MLO telescope at Mauna Loa, Hawaii. An analysis of its trajectory revealed it had been closest to Earth on July 20 sometime between 10:27 p.m. to 11:32 p.m. EDT (between 02:27 to 03:32
UTC
on July 21).
This means the asteroid's closest approach occurred 2.5 to 3 days before it was seen. Asteroid 2017 OO1 flyby had passed at about one-third the Earth-moon distance, or about 76,448 miles (123,031 km).
Although that's still a safe distance, a fact that stands out is that asteroid 2017 OO1 is about three times as big as the house-sized asteroid that penetrated the skies over
Chelyabinsk
, Russia in February, 2013, breaking windows in six Russian cities and causing more that 1,000 people to seek treatment for injuries, mostly from flying glass.