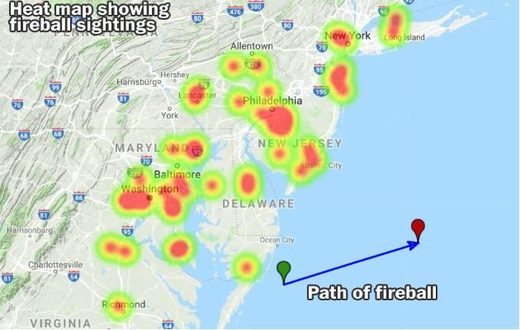 If you looked up at the right times Monday evening, you may have seen something out of this world.
Not one, but two, bright fireballs lit up the skies Monday evening, widely visible from D.C. to New York.
The first occurred about 4:56 p.m., 10 minutes after sunset in Washington. It illuminated the twilight eastern horizon, burning vibrant shades of green, blue and white as it exploded in our atmosphere. It lasted about five to seven seconds as it fell, fragmenting into a number of smaller shards like a doomed firework.
The fireball "looked like an airplane going super fast but then disappeared about as quickly as I saw it," commented Samantha Tungul, a Capital Weather Gang Facebook follower who witnessed the event in Prince William County.
Other eyewitnesses described it
as "like a stray firework," "green and slow moving," and "an incredibly bright blue white streaking ball."