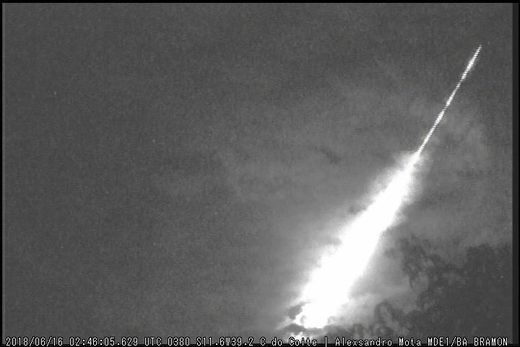 Comment: Translated from Portuguese with Google Translate.


A big bolide was seen in the skies of Bahia tonight (June 15). The BRAMON MDE1 / BA Station, run by Alexsandro Mota, recorded the meteoroid's passage through the atmosphere. The video is impressive and shows the meteor cutting across the field of view of the camera.
Check out: The clouds present at the moment, have somewhat disrupted the measurement of its
brightness, but we estimate something around -8.
It was previously associated with the June iota Pegasids meteor shower, a minor rain proposed by Greaves in 2012 that has its radiant on the Pegasus Constellation. However, its definitive classification will only be possible if there is a second image that allows us to extract more information about the meteoroid orbit before entering the atmosphere.