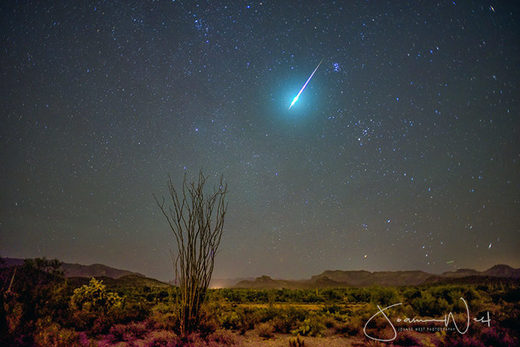 As the
Orionids
were peaking this past weekend, at least two members of the EarthSky community caught bright meteors in the long-lasting Taurid shower. The two meteor photos on this page appear to show
the same
bright meteor, although these photographers were separated by about 100 miles. Joanne West, whose image is above, said she caught her fireball at 10:27 p.m. on October 21 and wrote:
Had camera aimed at eastern sky in dark desert area near Superstition Mountains in Gold Canyon. I had been making 20-second exposures continually for about 30 minutes. Grace was with me as my camera shutter happened to be open when this fireball came out of the sky from the Taurus constellation.

Nikon D750, 20mm Nikon lens. Processed the raw file to adjust the foreground brightness and darken the highlights of the meteor.
Thanks, Joanne! Meanwhile, some 100 miles (about 150 km) to the south, Eliot Herman in Tucson, Arizona also caught a bright Taurid fireball at 10:27 p.m. on the evening of October 21 ...