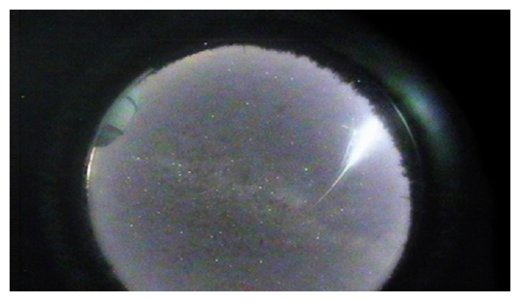 Skywatchers across Eastern Canada and the U.S. spotted
an unexpected treat last night, as a meteor streaked across the sky.
The phenomenon was captured by a camera atop Quebec's Mont-Mégantic provincial park, about 80 kilometres east of Sherbrooke, Que., around 9:40 p.m. Wednesday.
Sébastien Giguère, scientific co-ordinator at the Mont-Mégantic Astrolab, confirmed Thursday morning that the fireball was indeed a meteor.
A meteor, also called a shooting star, is the light emitted from a meteoroid or an asteroid as it enters the atmosphere.
Meteors like ones seen during Perseid meteor showers are caused by particles that are the same size as a grain of sand or rice, Giguère explained. The bigger the particle, the bigger the meteor.
Last night's meteor was probably caused by something the size of a big rock, Giguère said.
"Hundreds of tonnes of meteorites fall through the sky every day," he said on Radio-Canada's
C'est pas trop tôt.
"But yesterday, it was nice out and [the meteor] was centred on southern Quebec. That happens once every one or two years, so it's not totally rare, but it doesn't happen every day."
Vicky Boldo, a resident of Sainte-Catherine-de-Hatley Que., said she saw the "spectacular sight" while sitting in her hot tub last night.
"It passed directly over us and lit the yard up like a football field — it seemed to be just up over our heads beyond the trees," she said in an email.