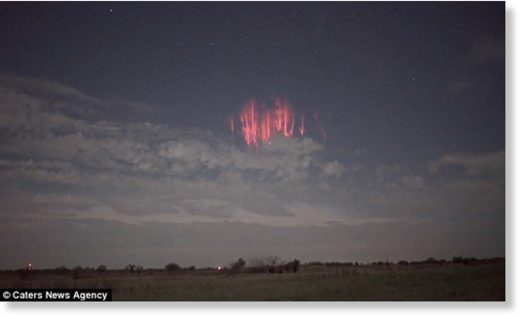 This month, people in Oklahoma have been treated to a stunning and extremely rare display - a red sprite lightning storm.
The extraordinary weather occurrence is caused by electrical bursts of light above highly active thunderstorms, and appears as jellyfish-shaped clusters of red light.
Red sprites are rarely seen, yet one lucky videographer managed to catch the display six times during a storm earlier this month over Edmond, Oklahoma.
On October 6, videographer Paul Smith headed outdoors with his camera to capture some of the lightening forks on film, but instead he managed to capture something far more remarkable.
Sprawled out in the sky intermittently appears a spectacular series of bright red, jellyfish-shaped clusters of light, an extraordinary weather occurrence known as a 'red sprite'.