Observations of a supernova colliding with a nearby companion star take UCSB astrophysicists by surprise.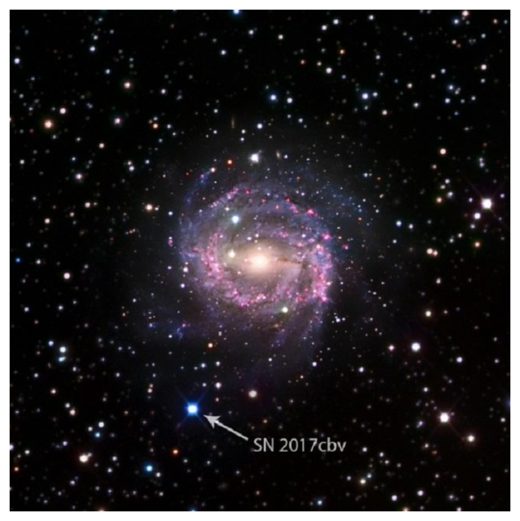 In the 2009 film
Star Trek,
a supernova hurtles through space and obliterates a planet unfortunate enough to be in its path. Fiction, of course, but it turns out the notion is not so farfetched.
Using the nearby Las Cumbres Observatory (LCO), astrophysicists from UC Santa Barbara have observed something similar: an exploding star slamming into a nearby companion star. What's more, they detected the fleeting blue glow from the interaction at an unprecedented level of detail. Their observations revealed surprising information about the mysterious companion star, a feat made possible by recent advances in linking telescopes into a robotic network. The team's findings appear in the journal
A
strophyiscal Journal Letters
.
The identity of this particular companion has been hotly debated for more than 50 years. Prevailing theory over the last few years has held that the supernovae happen when two white dwarfs spiral together and merge. This new study demonstrates that the supernova collided with the companion star that was not a white dwarf. White dwarf stars are the dead cores of what used to be normal stars like the sun.