An international research team led by Prof. LI Di and Dr. WANG Pei from National Astronomical Observatories of Chinese Academy of Sciences (NAOC) caught an extreme episode of cosmic explosions from Fast Radio Burst (FRB) 121102, using the Five-hundred-meter Aperture Spherical radio Telescope (FAST). A total of 1,652 independent bursts were detected within 47 days starting Aug. 29, 2019 (UT).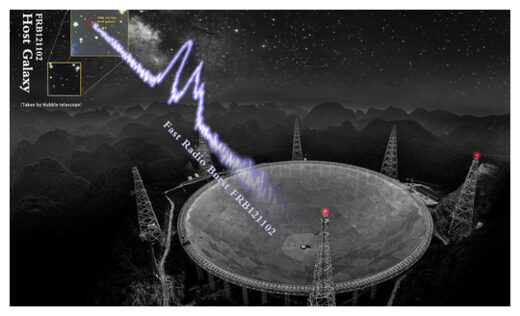 It is the largest set of FRB events so far, more than the number reported in all other publications combined.
Such a burst set allows for the determination, for the first time, of the characteristic energy and energy distribution of any FRB, thus shedding light on the central engine powering FRBs.
These results were published in
Nature
on Oct. 13, 2021 (US Eastern Time).
FRBs were first detected in 2007. These cosmic explosions can be as short as one-thousandth of a second while producing one year's worth of the Sun's total energy output. The origin of FRBs is still unknown. Although even aliens have been considered in models for FRBs, natural causes are clearly favored by the observations. The recent focuses include exotic hyper-magnetized neutron stars, black holes, and cosmic strings left over from the Big Bang.