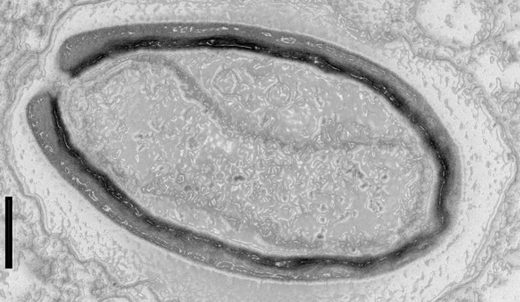 Giant viruses may invent genes and proteins found nowhere else on Earth, new research suggests.
As their name implies, giant viruses are big - as big as bacteria, and more than twice the size of typical viruses, scientists have
previously reported
. Giant viruses have more complex genomes than some simple microbial organisms, and many of their genes code for proteins found only in giant viruses, according to past studies.
These so-called orphan genes puzzled scientists, but a new study may suggest where they come from. In three new species of Pandoraviruses - a family of giant viruses described in 2013 -
these genes originated in the viruses themselves. The giant viruses were like factories, churning out novel genes and proteins - though the origin and purpose of this prolific gene creation is still a mystery, the study authors wrote.
Even before the discovery of giant viruses, viruses occupied
a questionable position
on the tree of life: They contain much of the cellular material found in living organisms, including DNA or RNA, but they lack cell structure and cannot replicate outside a host - two key criteria for defining life.