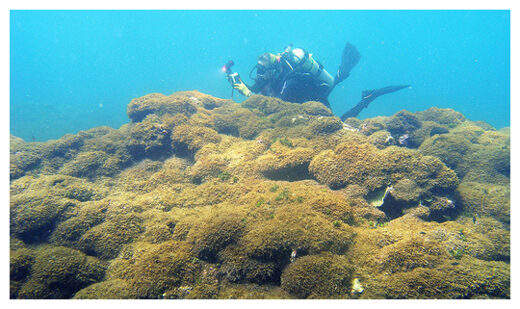 Hawaii is famous for a lot of things. Perfect waves and perfect weather, to name a few. Stunning views and crystal clear water to name a few more. One of the most famous things it is famous for, however, is its coral reefs. And according to
a study in the journal PLOS One
, those reefs could be in some serious trouble.
Back in 2016, survey cruises conducted by the National Oceanic and Atmospheric Administration (NOAA) picked up
strange specimens of an undetermined red alga.
It "rapidly attained alarming levels of benthic coverage at Pearl and Hermes Atoll, Papahānaumokuākea Marine National Monument, Hawaiʻi," which, in layman's terms, means it spread like wildfire in shallow shoreline waters. A few years later, they went back to have another look, and what they found was strange indeed.
"By 2019 the seaweed had covered large expanses on the northeast side of the atoll with mat-like, extensive growth of entangled thalli,"
the abstract from the study reads. "Specimens were analyzed using light microscopy and molecular analysis and were compared to morphological descriptions in the literature for closely related taxa. Light microscopy demonstrated that the
specimens likely belonged to the rhodomelacean genus
Chondria
, yet comparisons to taxonomic literature revealed no morphological match."
In short, it appears that the alga is likely to be an unknown species
. That's a problem, because the Papahānaumokuākea Marine National Monument is uninhabited, remote, and pristine — which makes it susceptible to invasive species like this one.