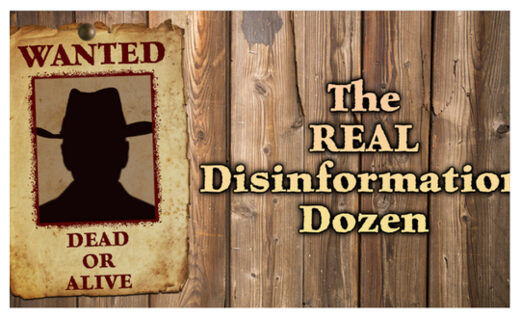 Have you heard of "The Disinformation Dozen" yet? They're the twelve people that, according to The Center for Countering Digital Hate (CCDH), "are responsible for almost two-thirds of anti-vaccine content circulating on social media platforms."
You see, you might think that it is well-documented research about the
known short-term effects and unknown long-term effects of the unapproved gene therapy injections
that are making people hesitant about sticking the COVID "vaccines" in their arms. But you'd be wrong.
According to the CCDH's super serious and rigorously researched
report on the subject
, it is in fact this small group of dedicated disinformationists who have single-handedly warped the minds of millions of poor, innocent social media users. These loathsome liars and avid anti-science activists are, the CCDH informs us, the true source of the public's misgivings about the jab.
Don't trust your lying eyes! Believe our good old friends at the mysterious CCDH (who studiously avoid the question of where they get their own fund in the "
About
" section of their website) when they tell you that it's this handful of cranks and charlatans who are creating hordes of tinfoil anti-vaxxers with their cunningly crafted tweets and their perfectly persuasive Instagram posts.
So, who are these online gurus, exactly? Who are the social media Svengalis leading the online hordes off of the digital cliffs? Who should we as a society be living in mortal fear of? Why,
THESE people
, of course!