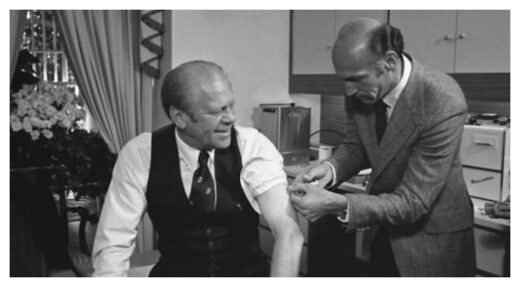 In the mid-70's, the US government launched a full-scale campaign to vaccinate mass numbers of Americans against what was
supposed to be the deadliest flu pandemic that never actually occurred. As a result of the government push for widespread inoculation, many were harmed by the rushed vaccines.
"This government-led campaign was widely viewed as a debacle and put an irreparable dent in future public health initiative, as well as negatively influenced the public's perception of both the flu and the flu shot in this country." - Rebecca Kreston, writing for Discover Magazine
After a soldier named David Lewis died from a newly emerged form of influenza, then-US Secretary of Health F. David Mathis announced that this virus
indicated
"a return of the 1918 flu virus that is the most virulent form of flu," and in extension the most deadly pandemic since the start of the 20th century.
The CDC decided that in order to prevent another pandemic, 80% of Americans would have to be vaccinated immediately. Ultimately, 46 million Americans received the vaccine for a virus which never actually emerged.