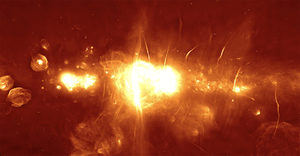 Galactic Center: South Africa's MeerKAT Radio Telescope captured this panorama of the center of the Milky Way. Area approx. 1,000 light-years by 500 light-years
Who controls the past controls the future. Who controls the present controls the past.
- George Orwell
Recent Comments
It grows in the ground. I appreciate work made to flourish except the bs.
---
All you needed to say was coop hydroponic. You cant change it. Relpace the name or material and you're still planting soy and corn with additives...
---
no doubt drug users or derelicts of some kind. lost souls. better find your way out before it is too late.
---
they cry out in pain as they strike you
---
this is the way. and how beautiful it will grow.