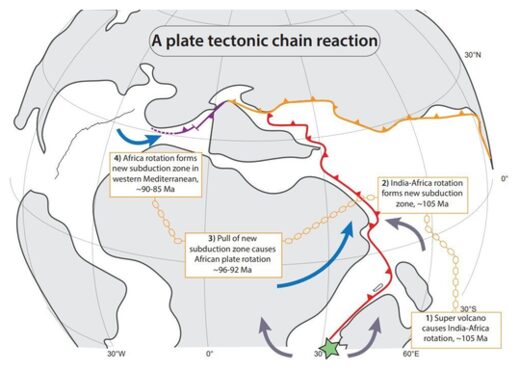 Geologists at Utrecht University are working hard to unravel the secrets of plate tectonics, the mechanism that continuously shapes Earth's crust and is causing earthquakes and volcanic eruptions. This time, another mystery has been dissected. In the Earth's geological past, there were 'short' periods of a few million years during which many tectonic plates around the world suddenly changed their speed and direction. What caused these abrupt changes in plate movements?
Earlier research showed that changes in movement between two plates can result from continental collisions or rising mantle plumes. But could such collisions or mantle plumes set off a global chain reaction? Now geologists have succeeded in finding evidence that supports this.
"With this discovery, we are able to better understand the driving forces behind plate movements, and thus processes such as mountain formation or volcanism."
This paper, published in
Nature Geoscience,
was a collaboration between geoscientists from Utrecht University, Australian National University, and Ben-Gurion University of the Negev. To test their hypothesis, the researchers asked themselves the following question: did the formation of a new subduction zone north of Arabia that was triggered by a mantle plume that caused a
super volcano near Madagascar
~100 million years ago set off a chain reaction? Utrecht professor of plate tectonics and paleogeography
Douwe van Hinsbergen
, geologist, former Utrecht PhD student and first author Derya Gürer, and geophysicist Roi Granot, analysed the consequences step by step. "If our hypothesis is correct, the new subduction zone that formed north of Arabia should have caused forces that accelerated, and rotated the African Plate in the 10 million years after subduction initiation. However, to analyse this, we had to solve a major problem," says Gürer.