Do Supernova Events Cause
Extreme Climate Changes?
"Global warming will not be reduced by reducing man made CO2 emissions" - Dr. William Sokeland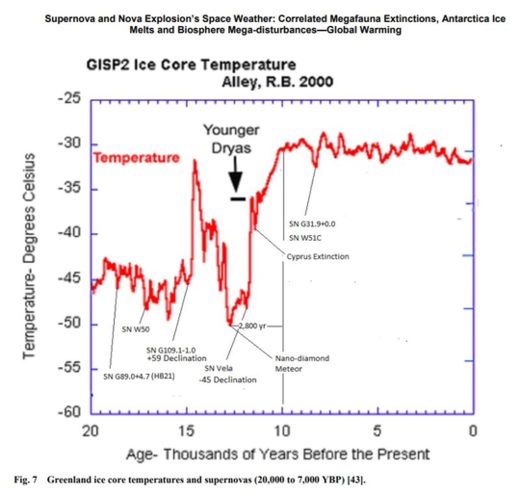 In recent years, mass die-offs of large animals - like the
sudden deaths of 211,000 endangered antelopes within a matter of weeks
- have been described as "mysterious" and remain largely unexplained.
Determining the cause of the retreat to ice ages and the
abrupt warmings that spawned the interglacial periods
has remained controversial for many decades.
Dr. William Sokeland
, a heat transfer expert and thermal engineer from the University of Florida, has published a paper in the
Journal of Earth Science and Engineering
that proposes rapid ice melt events and ice age terminations, extreme weather events leading to mass die-offs, and even modern global warming can be traced to (or at least correlate well with) supernova impact events.
The perspectives and conclusions of researchers who claim to have found strong correlations that could explain such wide-ranging geological phenomena as the causes of glacials/interglacials, modern temperatures, and mysterious large animal die-offs should at least be considered...while maintaining a healthy level of skepticism, of course.
Discovery - if that is potentially what is occurring here - is worth a look.