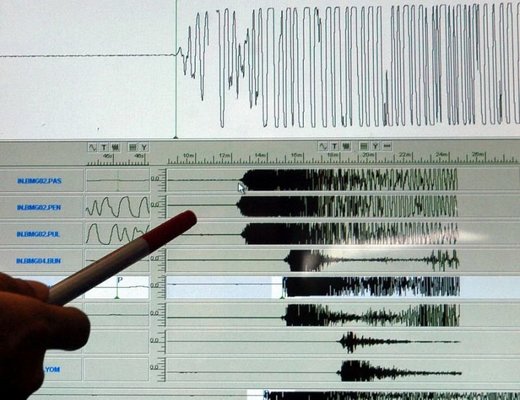 Scientists who study earthquakes in Japan said Thursday they have detected a rare deep-Earth tremor for the first time and traced its location to a distant and powerful storm.
The findings, published in the US journal
Science
, could help experts learn more about the Earth's inner structure and improve detection of earthquakes and oceanic storms.
The storm in the North Atlantic was known as a "weather bomb," a small but potent storm that gains punch as pressure quickly mounts. Groups of waves sloshed and pounded the ocean floor during the storm, which struck between Greenland and Iceland.
Using seismic equipment on land and on the seafloor that usually detects the Earth's crust crumbling during earthquakes, researchers found something they had not detected before -- a tremor known as an S wave microseism.
Microseisms are very faint tremors. Another kind of tremor, known as P waves, or primary wave microseisms, can be detected during major hurricanes. P waves are fast-moving, and animals can often sense them just before an earthquake hits. The elusive S waves, or secondary waves, are slower, and move only through rock, not liquid. Humans feel them during earthquakes.