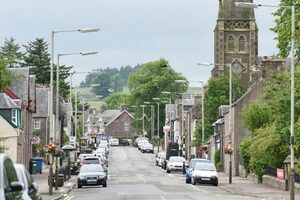 Perthshire
continues to be rumbled by a series of seismic activity after two minor earthquakes hit the area within five minutes of each other at the weekend.
Saturday's incidents now make it nine tremor events in the area since the start of September.
The first on Saturday took place at 7.23am, with the epicentre near
Gleneagles
, measuring a 1.5 magnitude at a depth of five kilometres.
Five minutes later a 1.8 magnitude quake was registered a few miles away at a depth of seven kilometres.
Both tremors were felt by residents in
Blackford
, but there have been no reports of any damage so far, and were recorded at the nearby British Geological Society (BGS).
Blackford
experienced the sixth and seventh tremors in the series on the Sunday prior -
the former of which being the biggest recorded in over a decade.
A 2.5 magnitude and smaller 0.8 magnitude quake hit the village in the evening with aftershocks reported in Auchterarder and Aberuthven.