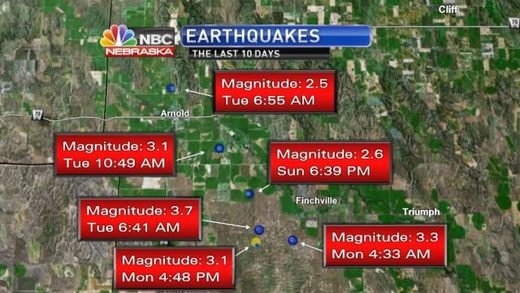 A series of small earthquakes have shaken central Nebraska and become the talk of the area.
According to
data on the U.S. Geological Survey
's website, there have been six quakes since April 9 in the heart of the state, centered on the town Arnold, which is about 225 miles west of capital Lincoln. The first, a 3.3-magnitude tremor, happened early that morning, followed by three on April 10, another on Sunday, and then the most recent earthquake on Monday. The strongest quake was the first one that struck on April 10, which reached a 3.7 on the scale.
The earthquakes were picked up from nearby Stapleton and were detected about three miles below the surface.
There haven't been any reports of human injury or structural damage related to the seismic activity, according to
KWBE-TV
.