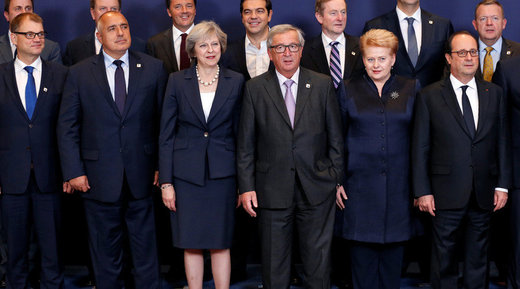 Russophobic rants by some European Union leaders and their willful distortion of events in Syria is a reflection of why the 28-member bloc is careering toward disaster. We are witnessing a crisis of appallingly inept leadership.
German, British and French leaders were among the most hawkish voices at the EU leaders' summit in Brussels this week, denouncing what they claimed were Russian "war crimes" in Syria and calling for additional economic sanctions on both Moscow and Damascus.
German Chancellor Angela Merkel said Russian-backed Syrian air strikes were "inhumane and cruel," while Britain's Prime Minister Theresa May took the "most shrill prize" with her
condemnation
of Moscow's "sickening atrocities."
French President Francois Hollande
echoed
their calls for the EU to slap more sanctions on Russia - in addition to those the bloc has implemented over the Ukraine conflict.