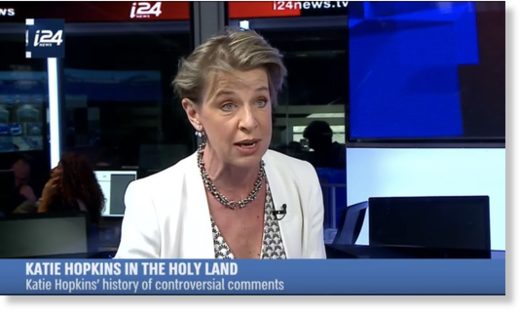 The Israeli international TV channel i24 News last week aired a call for the total ethnic cleansing of the Palestinian people.
"There will never, ever be a two-state solution," British far-right demagogue
Katie Hopkins
stated. "Israel will become the super force here. You will have to have a one-state solution."
But she wasn't talking about a single state with equal rights for all.
"There will not be peace in Israel until you remove the people who don't belong there,"
Hopkins asserted.
Another guest, former Israeli diplomat Daniel Shek, objected that they - the Palestinians - "are indigenous people, not migrants." But Hopkins added that "it will be a one-state solution, and in so far as you will have to remove certain individuals, you would just take more land."
Shek asked: "You mean 50 percent of the population will have to go?"
"Yes, they will have to go," Hopkins affirmed. "If some of their population still stab you with knives, then I would say yes, the rest have to go."