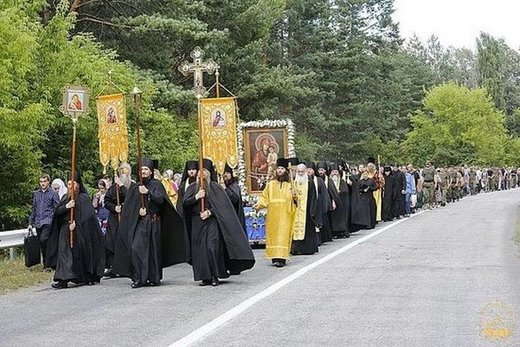 Petro Poroshenko is hated by the people because of their falling living standards, by the Nazis because he is a tycoon and the son of a Jew, and by his oligarch colleagues because he is the one who controls the country's dwindling financial resources
Preparations for the overthrow of Petro Poroshenko are in full swing in Kiev. The listless political campaign that made no headway around the theme of early parliamentary elections for the last six months, has congealed into "Azov" Nazi demonstrations, while trade unions are unhappy with the sudden fall in living standards.
The explosion of Alyona Pritula's car, killing journalist Pavel Sheremet, triggered a media campaign reporting that the police were "illegally watching" him....
The attack on the
Cross Procession for Peace
, organized by the Ukrainian Orthodox Church of the Moscow Patriarchate, could provoke Nazi-led street riots
. Two sections of the Cross Procession are headed to Kiev from different directions - from the Svyatogorsky Monastery in the East and the Pochaevsky Monastery from the West.
Opponents of the Kiev government believe the Cross Procession could gather up to 1,5 million on the streets of Kiev. Even if this figure is exaggerated, dozens or even hundreds of thousands of Orthodox anti-fasсists agitating against war are the legal political alternative to the regime that tried to avoid its appearance by prohibiting the tame Communist Party of Ukraine, shutting down the opposition mass media and expanding repression against active anti-fascists.