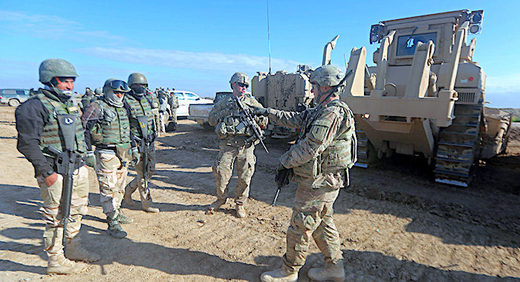 The US promised to "gradually reduce" its presence in Iraq in February after Baghdad declared victory over Daesh (ISIS) last December, but has declined to withdraw its contingent from the country.
In August, the US-led coalition said the estimated
5,200 US troops in Iraq would stay in the country "as long as needed."
Iraqi lawmakers have urged Washington to
end what they consider its illegal military presence in their country.
Speaking to Iran's Press TV on Friday, Council of Representatives MP Amer al-Shebli
argued
that continued US presence was "a violation of the Iraqi sovereignty."
Fellow lawmaker Adnan al-Assadi added:
"After ending terrorism, the previous parliament should have taken a serious action to force all foreign forces to leave Iraq. The presence of US forces in Iraq is illegal. As a member of the parliament's Security Committee, we voice our concern over the presence of the US military and the constant increase in the number of the soldiers. They have thousands of soldiers here. Yet the government says they are advisors."
"Sovereignty is the most valuable asset in any nation,"
legislator Kadhim al-Sayadi said.
"The sacrifices of the Iraqi people in their fight against Daesh show how important their country's sovereignty is for them. Today, no country will allow foreign military bases on its land."
Other lawmakers said that the US could maintain a military presence in Iraq, but only if it reached agreement with Iraq's parliament and government first. "The presence of any foreign forces inside Iraq can only be done through agreements with the Iraqi government, and these agreement cannot be passed without the approval of the parliament," Kurdish Democratic Party lawmaker Diar Barawri said.
The United States invaded Iraq in 2003 on the pretext of finding and destroying the country's weapons of mass destruction. The weapons were never found, and the US withdrew from the country in 2011 following a costly occupation and insurgency which led to the deaths of over 4,800 coalition troops and up to a million Iraqis.
After the US withdrawal, the pro-US government in Baghdad was overwhelmed by sectarian violence, leading to further casualties and the eventual rise of Daesh, which overran large tracts of western Iraq and eastern Syria and declared a caliphate in 2014. Syrian and Iraqi forces and their allies launched operations to defeat the terrorist group and reclaim their territories. By 2018, Daesh's remnants were confined to a small area of Syria east of the Euphrates River.