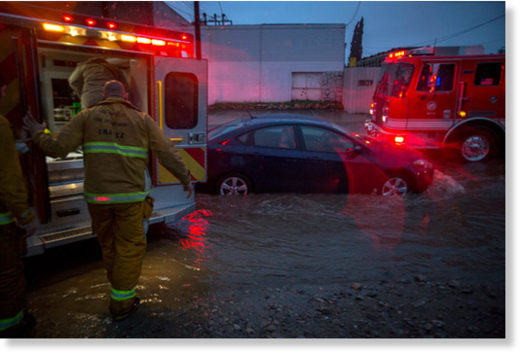 The death toll in the recent powerful California rainstorms rose to five as the weather system moved to pummel the northern portion of the state.
In Thousands Oaks, rescuers discovered the body of a man in his 20s who was swept away by floodwaters, the Ventura County Sheriff's Office said Saturday. On Friday, one person was found dead in Victorville in a flooded vehicle, a 55-year-old man was electrocuted in Sherman Oaks when a power line fell and two people died after a traffic accident in San Diego because of water on Interstate 15.
Meteorologists have called the storm
"bombogenesis,
" an intense extra-tropical cyclonic low-pressure area, or "a weather bomb." They say the system is one of the strongest in years.
The storm flooded roadways in Los Angles and San Diego as power remained out and cars were underwater. At least 8 inches of rain fell on roads in San Diego.
On Friday, two cars plunged into a massive sinkhole in the Studio City neighborhood of Los Angeles.