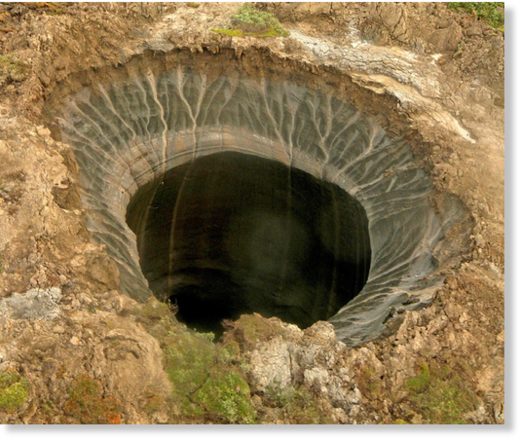 Is the Siberian permafrost exploding? Recent reports out of the Arctic Circle suggest that methane pockets are erupting and causing huge craters, but
scientists aren't so sure that these features are necessarily the result of detonations — or that they are even new
.
A
Siberian Times article
suggested that 7,000 underground gas bubbles are set to "explode" on the peninsulas of Yamal and Gydan as a result of melting permafrost. The article differentiates these small gas bubbles from enormous craters in the tundra landscape, but asserts that the huge craters are the result of subsurface methane gas exploding as
global warming
heats up Earth.
That is far from certain, scientists told Live Science. In fact, the craters may be thousands of years old.
"These craters are recently discovered by scientists," said Katey Walter Anthony, a biogeochemist at the University of Alaska, Fairbanks, who studies methane release from permafrost.
"It doesn't mean they are new."