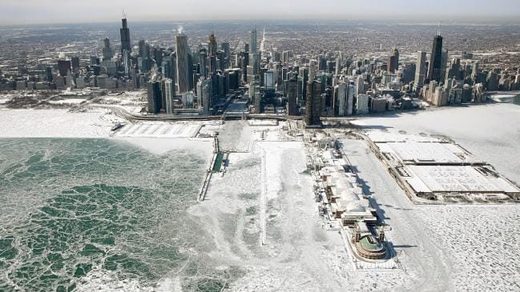 A week of extreme cold has left more than two dozen people dead - but even as temperatures rise, the wild weather is not over.
After a week of sub-zero temperatures that left more than two dozen people dead, the United States' midwest is finally about to thaw.
But the extreme weather is not over.
America's National Weather Service has warned residents to brace for massive temperature swings.
For example, the twin cities of Minneapolis and St Paul
will go from
-32 degrees celsius to seven degrees on Sunday local time, then plunge back down to -23 degrees by Wednesday.
On the local fahrenheit temperature scale, that's "about 125 degrees in temperature change" in a week,
the NWS says.
US media outlets
have labelled
the erratic weather a "thermal backlash". The phenomenon could cause new problems for residents, as melting ice threatens to flood rivers and icicles fall from skyscrapers.