This was "long before industry emitted significant amounts of carbon dioxide," writes Steve Goreham.
______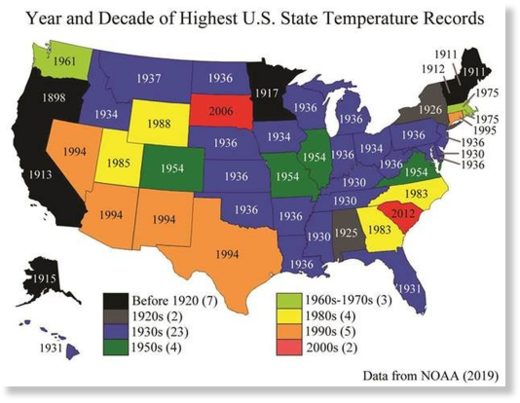 According to NOAA, "23 of the 50 state record high temperatures were recorded during the 1930s," says Goreham. "Thirty-six of the 50 state record highs occurred prior to 1960."
But never mind such inconvenient facts.
Seventy-four US medical and public health groups
released
a "U.S. Call to Action" last month, in which they declared climate change to be a "true public health emergency." They also claimed that we urgently need to transition away from hydrocarbon energy and a move to a low-carbon economy.
"(Trouble is), "actual weather and health trends don't support either the alarm or the demanded actions."