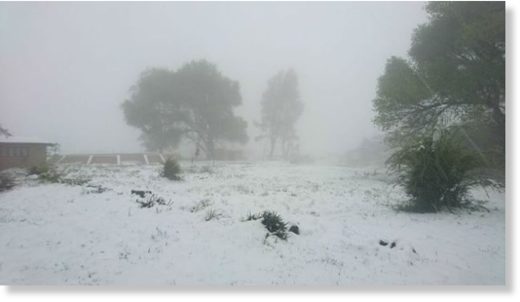 Over 30mm of snow fell on the Eastern Cape highlands last night while snowfalls are continuing throughout Thursday.
Amy Vermeulen of Tiffindell Ski Resort said heavy snowfalls fell throughout the evening of November 15.
"We had

a whopping 30cm

and the snow high in the mountains
should last until the weekend for those avid snow-seekers wishing to make a snowman or throw some snowballs.
The road to the resort is currently closed but is expected to be open later Thursday afternoon. "Around Tiffindell, the highest five passes in South Africa are also currently closed," Vermeulen said.
Snow Report SA said it is expecting heavy falls in Lesotho and the Eastern Cape Drakensberg today,
but only medium to light falls on the KZN Drakensberg, with a small possibly of snow settling in towns like Underberg and Himeville, and some flurries in the KZN Midlands which were unlikely to settle. There was little likely hood of snow on Van Reenen's Pass. Snow Report SA said light snow fell in at Clarens, in the Free State. and in Mooi River.