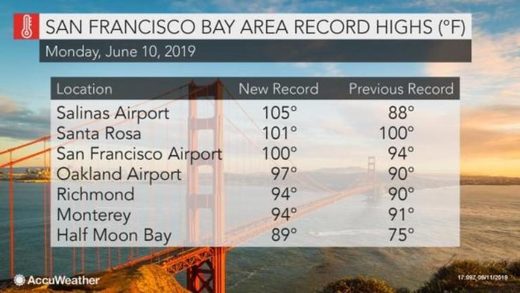 Mother Nature cranked up the heat across the West during the first half of this week, with dozens of record highs shattered.
San Francisco was among the cities to shatter record highs as the temperature throttled to 92 F on Sunday, up to the triple-digit mark Monday and 98 F on Tuesday.
"Temperatures in San Francisco reached 100 F on Monday, which was 3 degrees higher than the maximum temperature at Las Vegas and equaled the high at Sacramento, California,"
according to AccuWeather Senior Meteorologist Dan Pydynowski. Monday's high beat the old daily record of 94 set back in 1994, and Tuesday's high shattered the old daily record of 88 set in 1985.
Tuesday was the third consecutive day above 90 in downtown San Francisco, a streak that's previously happened only 13 times on record and only the third time it's occurred outside of September or October.
The heat throttled back in the Bay Area on Wednesday.