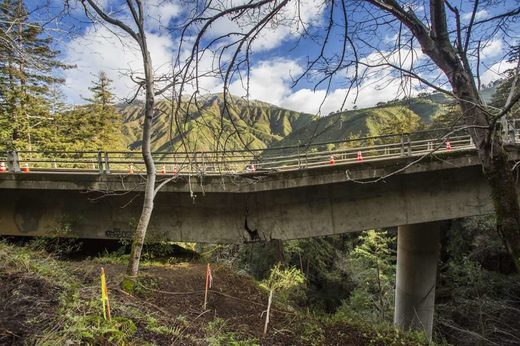 Storms have wreaked hundreds of millions of dollars worth of damage to California's roads and bridges, but nowhere is the problem more obvious than on a stretch of Highway 1 just south of Pfeiffer Big Sur State Park, where the last link to the rest of civilization is about to slide down a hillside.
The Pfeiffer Canyon Bridge spans a valley that has exploded with the cracking of falling redwood trees and the crash of rocks as the condemned bridge slides slowly toward the sea.
Two weeks ago, local James Wolfenden, 71, was out hiking when he spotted a jagged crack in the bridge's underbelly. It has since slid downhill several feet — though Caltrans isn't sure just how much because rain washed its markers away. Its northern end is visibly buckling and sagging like a roller coaster stopped in time.