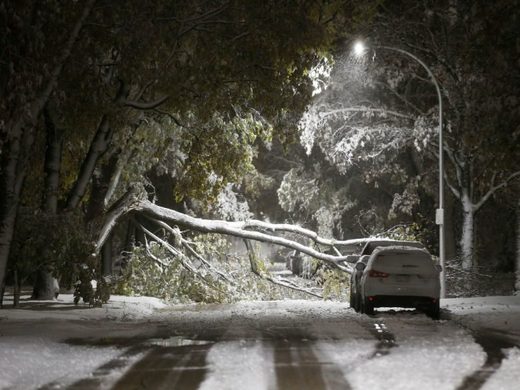 As an early season snow and windstorm hammered Manitoba over the weekend, Marlene Beardy's pregnant granddaughter found herself stranded in Lake St. Martin, three hours north of Winnipeg, without heat or power and days away from giving birth.
"There was no heat, nothing at all. No lights, no heat. Nothing. Period," said Beardy, an evacuee from the northern Manitoba community, who was waiting to check into a hotel in Winnipeg on Monday.
Beardy is preparing to spend the next two weeks in a Winnipeg hotel with her granddaughter — who made it safely to Winnipeg after initial challenges evacuating — and newborn great-grandson, who was born in Winnipeg at 7:38 a.m. on Monday.
Thousands of people have been evacuated from northern First Nations communities in Mantioba as Manitoba Hydro works to rebuild vast stretches of the power grid in the province, warning it could take four days to restore full power to Winnipeg and 10 days to restore power to hard hit parts of the province outside the city.
Evacuating the northern communities proved especially challenging because the storm, which blew into Manitoba on Thursday night, knocked down thousands of trees, power poles and power lines in the province, blocking roads in places and knocking out both power and, in some areas, cell phone towers and phone connections.