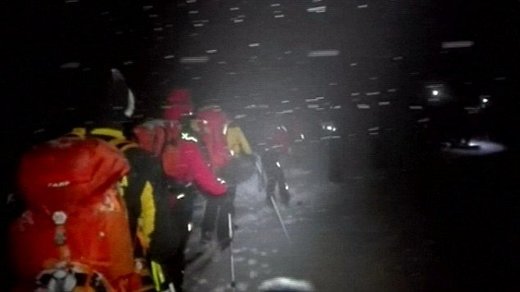 Up to 30 people have been killed after an Italian ski hotel was buried by an avalanche during a series of earthquakes.
Rescue teams are still battling to access Hotel Rigopiano, in Pescara, a province in the Abruzzo region, which has been hit by heavy snowfall in the last week.
The search operation was launched after four powerful earthquakes hit central Italy - in regions already reeling from deadly quakes last August.
There are reports this morning that as many as 30 people have been killed at the hotel.
'There are many dead,' Antonio Crocetta, the head of a group of Alpine police that was trying to reach the cut-off hotel, was quoted as saying.
Twenty firemen, two mountain rescue teams, six ambulances and local police were heading for the site last night, but the weather conditions were expected to cause major delays, a civil protection agency spokesman said.
Italy was hit by four earthquakes in four hours on Wednesday
, killing one and bringing terror to snowbound mountain areas still recovering from last year's series of deadly tremors.
The quakes, all measuring more than five magnitude, struck close to Amatrice, the mountain town devastated by an August earthquake that left nearly 300 people dead.