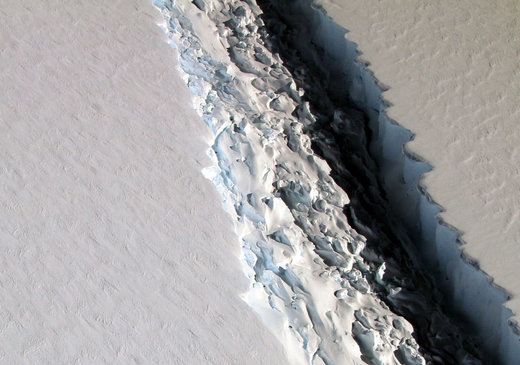 An ominous crack in an Antarctic ice shelf as wide as a football field is long takes on an otherworldly beauty in a new aerial image.
Snapped by scientists on NASA's IceBridge mission, the shot shows a rift in Larsen C, an ice shelf that is floating off the Antarctic Peninsula. When the crack eventually spreads across the entire ice shelf, it will create an iceberg the size of the state of Delaware,
according to IceBridge
. That's around 2,491 square miles (6,451 square kilometers).
As of Nov. 10, when the IceBridge scientists observed this crack, it was 70 miles (112 km) long and more than 300 feet (91 meters) wide. The dark depths of the crack plunge down about a third of a mile (0.5 km), all the way through the ice to the ocean below.