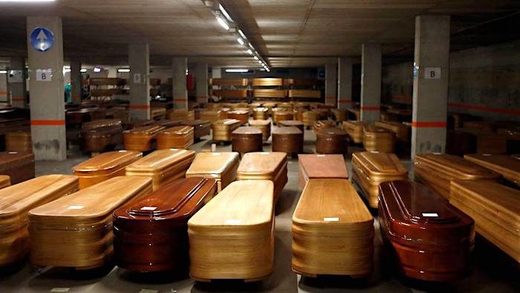 As Spanish health sector workers fight the Covid-19 pandemic, the funeral services are overrun and Madrid and Barcelona are having to enact emergency measures.
The coronavirus pandemic in Spain shows little sign of abating and as
the country's hard-pressed health services battle valiantly to attend to the needs of the over 70,000 active cases nationwide
the situation is worsening in terms of places to store those people who have lost their lives due to the ongoing crisis.
There have now been more than 10,000 deaths directly related to the Covid-19 outbreak in Spain and funeral service sector workers are inundated, leading to the use of places other than morgues to try and alleviate the situation.
The main ice rink in Madrid, the Palacio de Hielo, has been turned into a temporary morgue
during the pandemic and the IFEMA conference centre in the capital has been repurposed as a emergency isolation centre for coronavirus patients, in addition to military hospitals being set up on the outskirts of the city.
In Barcelona, the situation has become so untenable that a three-storey car park attached to the Collserola de Barcelona funeral home has been converted into a temporary resting place for Covid-19 victims.