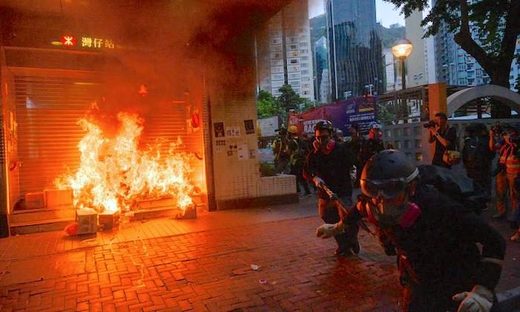 Fringe practicing wanton destruction for destruction's sake surely have learned tactics from European black blocs
What's going on deep down in Hong Kong? For a former resident with deep cultural and emotional ties to the Fragrant Harbor, it's quite hard to take it all in just within the framework of cold geopolitical logic. Master filmmaker Wong Kar-Wai once said that when he came up with the idea for
Happy Together
, he decided to shoot the story of his characters in Buenos Aires because that was as far away from Hong Kong as possible.
A few weeks ago I was walking the streets of far away Buenos Aires dreaming of Hong Kong. That Hong Kong that Wong Kar-Wai refers to in his masterpiece no longer exists. Unfortunately deprived of Christopher Doyle's mesmerizing visuals,
I ended up coming back to Hong Kong to find, eventually, that the city I knew also no longer exists.