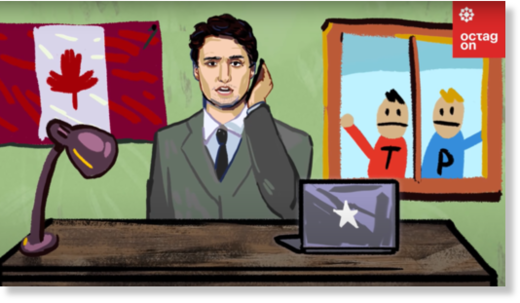 Canadian PM Justin Trudeau has been duped by Russian pranksters pretending to be Greta Thunberg, commiserating with her about geopolitics and world leaders, and promising to introduce her to Terrance and Phillip.
Pranksters Vladimir Kuznetsov and Alexey Stolyarov, also known as Vovan and Lexus, connected in a 10-minute phone call with Trudeau in January, after a Ukrainian airliner was shot down in Iran. A recording of the conversation between Trudeau and a voice posing as the acclaimed child environmentalist was
posted
to Vovan and Lexus's YouTube account on Monday.
Trudeau tried to assure fake Greta that he was doing his best to "de-escalate" international tensions following the airliner tragedy. "I'm asking you to impact on [President Donald] Trump and NATO, so they will lead to the fact that not only the future, but the present will be stolen from us," fake Greta said.
"Indeed. We are balancing many different things in Iraq," Trudeau said. "There's an understanding that yes, there are real questions around the international community and the American engagement and their actions, while at the same time there is a recognition that in the fight against terrorism, in the fight against ISIS, Daesh, there is a need for international military presence, including the Americans, to ensure stability in the region."