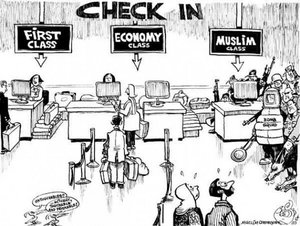 For Arab travelers through Israel's Ben Gurion airport, it is common knowledge that lengthy questioning and strip searches come before boarding. As it turns out, forcing passengers into airport back rooms and requiring them to remove clothing is illegal under Israeli law,
says
the legal rights group Adalah.
Adalah lawyer Fadi Khoury found
Israel's policies on flight security stem from a 1977 law that, "does not authorize Israeli airline security personnel to ask passengers to strip naked and to conduct searches or to escort them to the boarding gates,"
he said.
Khoury filed a complaint earlier this month with Israel's Airline Authority, which is tasked with enforcing security at Ben Gurion airport. The agency responded in writing that it does not conduct "any improper practices including stripping passengers and/or obligating them to be escorted by security guards following the conclusion of the security procedures they are required to undergo."
Yet Adalah spokesperson Mati Milstein said anecdotal evidence shows otherwise. He commented the practice is "widespread" and "systematic," although indicated no official master count exists of strip searches, his group has found numerous complaints.
There is also reported examples in media, including an apology from the Israeli state-owned El Al airlines for strip searching an
American professor
flying into Israel as an invited guest to Hebrew University in 2010. The following year Israel's ministry of foreign affairs
denounced
the strip search of a Spanish traveler invited by the Israeli government to participate in that year's gay pride parade.