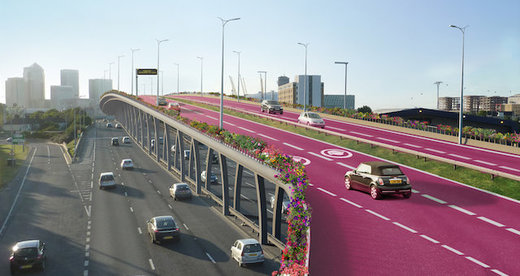 In the name of equality, justice and safe spaces, a car insurance firm in the United Kingdom is advocating for the creation and designation of gender split roadways to give women their own lanes and separate infrastructure in order to avoid the perils of sharing the road with men.
Shiela's Wheels
, a car and personal theft insurance company which bills itself as having a '
different spin on car insurance
,' has assembled a fact sheet concerning the statistical differences between men and women in regards to highway safety, accidents and injury reports.
Their conclusion, in short, is that women are at a greater risk of accident and injury while traveling on roads occupied by men, and that in order to correct this societal imbalance, separate, pink roadways and lanes should to be funded and created by government to segregate men and women drivers in some of the more dangerous thoroughfares in the UK
.
"To counteract these issues, the PinkZones design concept proposes two new types of roads." ~Shiela's Wheels, Pink Zones