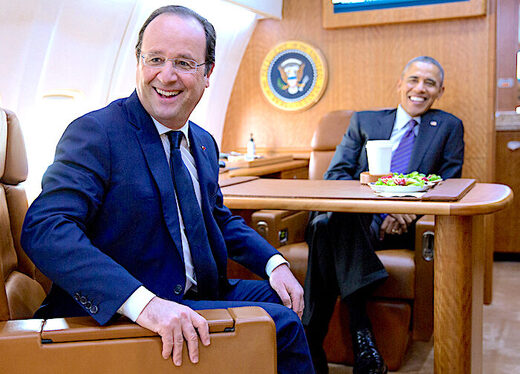 As its publisher remains in prison awaiting judgment on his extradition case, we continue our series of looking at WikiLeaks' significant revelations contributing to the public's right to know.
On Feb. 6, 2017, WikiLeaks released documents detailing the Central Intelligence Agency's espionage program in the months leading up to and following France's presidential election in 2012
. The agency used spies and cyberweapons to infiltrate and hack into the major political parties with competing candidates —
the Socialists, the National Front and the Union for a Popular Movement.
Their candidates — respectively
François Hollande, Marine Le Pen and incumbent Nicolas Sarkozy
—
were also spied upon individually
, as were many other prominent political figures.
The objectives of the program included ascertaining the contending parties' political strategies and platforms, their views of the U.S., and their relations with the European Union, with other European nations (Germany, Britain) as well as Israel, Palestine, Libya, Syria, and others.
The CIA's French operation lasted 10 months,
beginning in November 2011 and enduring until September 2012, several months after Hollande won the election and formed a Socialist government.
WikiLeaks' disclosure of the agency's project bears a special irony:
It was just as WikiLeaks published this material in 2017 that the CIA helped propagate unsubstantiated (and later
discounted
) "intelligence" that Russian hackers and propagandists were interfering with France's presidential election that year.
Similar allegations (similarly lacking in evidence) were floated as the
European Union
held parliamentary elections in May 2019.
As WikiLeaks reported at the time of the releases on the CIA's covert activities in France,
those revelations were to serve "as context for its forthcoming CIA Vault 7 series."
WikiLeaks' apparent intent was to display a CIA's hacking operation in action.