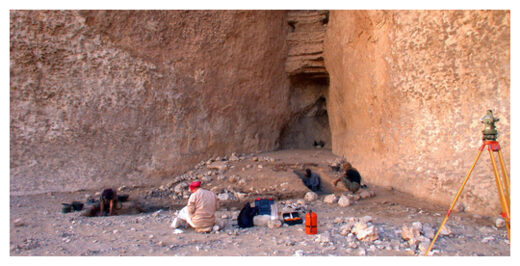 A new paper published in the journal
PLOS ONE
examines fluted projectile points from southern Arabia, detailing production methods and technical aspects that indicate differences in function from the technology of the Americas, despite similarities in form.
Findings from experimentation and comparative analysis suggest that highly-skilled, convergent technologies can have varying anthropological implications.
A new study led by archaeologists from the CNRS, the Inrap, the Ohio State University and the Max Planck Institute for the Science of Human History, reports on fluted points from the archaeological sites of Manayzah in Yemen and Ad-Dahariz in Oman. Fluted stone tools are a distinctive, technologically advanced form of projectile points, including spearheads and arrowheads. Fluting is a specific technique that involves the extraction of an elongated flake along the length of a projectile point, leaving a distinctive groove or depression at the base of the spearhead or arrowhead.
Fluting is a distinct technological tradition invented by early human cultures that spread across the Americas. Fluted point technology is very well known in North America, evidenced by finds across the continent dating from 13,000 to 10,000 years ago. As lead author Dr. Rémy Crassard of the CNRS notes,
"Until the early 2000s, these fluted points were unknown elsewhere on the planet. When the first isolated examples of these objects were recognized in Yemen, and more recently in Oman, we recognized that there could be huge implications."