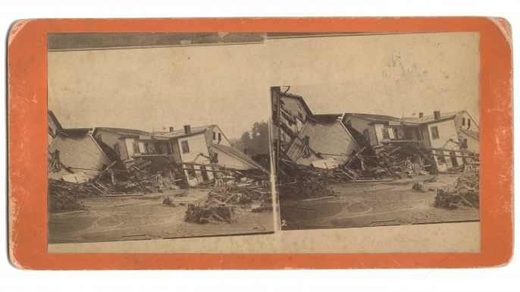 Floods were considered a blessing by certain civilizations—the Egyptians relied on the Nile's yearly overflow for fertile soil—but they also stand as some of history's most devastating natural disasters. Whether due to heavy rains, storm surges or busted dams, deluges have often claimed thousands of lives and left whole cities in ruin. In some cases, they even permanently changed the planet's geography.
1) The Johnstown Flood was so massive it equaled the flow of the Mississippi River.
The
disaster
began shortly after 3 p.m on May 31, 1889, when a dam on Pennsylvania's Lake Conemaugh washed away following several days of drenching rain. The collapse unleashed some 16 million tons of water, which quickly turned into a 40-foot-high, half-mile-wide surge of mud and debris. An hour later, the wave struck Johnstown like a giant fist, crushing some 1,600 buildings and sweeping away everything in its path. When the waters finally receded, over 2,200 people were dead and many more were injured or homeless. The flood was later blamed on the poorly maintained dam, which was owned by a hunting and fishing club, but no one was ever held financially liable for the disaster.