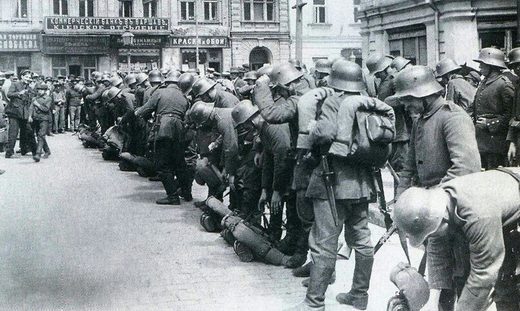 The German occupation forces were those who have been the first to create and recognize a short-lived state's independence of Ukraine in January 1918 during the time of their-own inspired and supported anti-Russian Bolshevik Revolution of 1917−1921. As reoccupied by the Bolshevik Red Army, the eastern and southern parts of the present-day territory of (a Greater) Ukraine joined in 1922 the USSR as a separate Soviet Socialist Republic (without Crimea). According to 1926 Soviet census of Crimea, the majority of its population were the Russians (382.645). The second largest ethnic group were the Tartars (179.094). Therefore, V. I. Lenin has to be considered as the real historical father of the Ukrainian statehood but also and as of the contemporary nationhood.
The territory of the present-day Ukraine was devastated during WWII by the Nazi German occupation forces from 1941 to 1944. During the war the Ukrainian nationalists of S. Bandera (1900−1959)
committed a genocide against the Poles, Jews and Russians
[on Stepan Bandera, see: Grzegorz Rossoliński-Liebe,
Stepan Bandera: The Life and Afterlife of a Ukrainian Nationalist. Fascism, Genocide, and Cult
, Stuttgart, ibidem, 2014]. The Jewish holocaust in Ukraine was one of the most terrible in the whole of Europe. For instance, the Ukrainian militia (12,000) directly participated in the 1942 holocaust of some 200,000 Volhynian Jews together with 140,000 German policemen. The Ukrainian mass killers learned their job from the Germans and applied their knowledge as well on the Poles [Timothy Snyder,
Tautų rekonstrukcija: Lieuva, Lenkija, Ukraina, Baltarusija 1569−1999
, Vilnius: Mintis, 2009, 183].