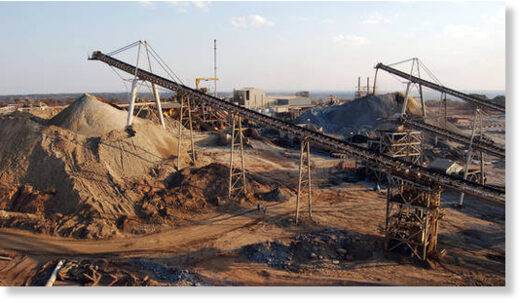 The planned sale of mining group Chemaf Resources, which operates copper and cobalt mines in the Democratic Republic of the Congo (DRC), is set to intensify the battle between the US and China for African resources
, the
Financial Times
reported on Thursday.
According to the outlet, the struggling Dubai-based group has hired an adviser to assist in the sale of the company and its strategic mines in the DRC, and is targeting a valuation of about $1 billion.
Backed by commodity trader Trafigura Group, Chemaf Resources has put itself up for sale after a slump in cobalt prices left it struggling to finish key projects.
The sale process was launched in September and has sparked interest from Chinese investors, while the US government is also trying to broker proposals by Western or Middle Eastern bidders to prevent the assets falling into Chinese hands, the
FT
wrote, citing people familiar with the matter.
The US has stepped up efforts to counter China's potential dominance of Africa's mineral resources and curtail its access to advanced technologies, as the world's two largest economies compete in clean energy solutions, the newspaper reported.
Both copper and cobalt are vital for the transition to renewable power as they are used to make electric cars and batteries as well as other consumer electronics and industrial devices.
In a bid to create its own supply networks, the US government is considering a $250 million investment in the Lobito Corridor railway that would become a key route for exports from the resource-rich DRC and Zambia westbound through Angola, according to the
FT.
At the same time, China has become an active player in Africa's resource market, making substantial investments in lithium, nickel, and cobalt production on the continent as Beijing seeks to defend its dominance in processing metals for electric vehicles.