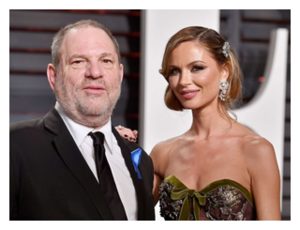 Hollywood is in a tailspin over how Harvey Weinstein concealed sexually abusive behavior from friends, colleagues, and perhaps an entire industry for decades. But while the investigation into Weinstein continues, recent research offers clues into why so many stars are prone to exploiting others.
London - The Harvey Weinstein sexual assault scandal shows no sign of winding down. Just the opposite: police in the United Kingdom are now investigating
several allegations
involving the Oscar-winning film producer. While Weinstein has "unequivocally denied" allegations of non-consensual sex, and no arrests have been made, more than two dozen women - including the actors Angelina Jolie, Gwyneth Paltrow, and Rose McGowan - have publicly accused him of harassment. The allegations
stretch over nearly three decades
.
Hollywood is struggling to explain how one of its most visible figures could have gotten away with such behavior for so long. Woody Allen offered an important clue. Despite working with Weinstein on several films, he claims that no one ever brought allegations of abuse to his attention.
"And they wouldn't, because you are not interested in it," Allen
told the BBC
. "You are interested in making your movie." Others who worked with Weinstein over the years have made similar statements.
Is this the Hollywood equivalent of a police officer's "blue wall of silence," or is there something more clinical at work?
One possible answer may be found in the results of
recent psychological research
. According to scientists in the United States and Israel, there are certain personality traits - the "dark triad" of narcissism, psychopathy, and Machiavellianism - that are more commonly associated with sexually abusive behavior.
One intriguing finding from this research, published in 2016 in the journal
Personality and Individual Differences
, is that personality traits associated with a proclivity for harassment may be "specialized psychological adaptations" that allow individuals to exploit "niches" in society.
In other words, some sexual predators may seek careers in particular industries that allow them to exploit others.