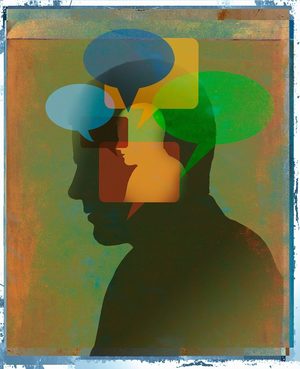 I think, therefore I am,' the 17th-century philosopher René Descartes proclaimed as a first truth. That truth was rediscovered in 1887 by Helen Keller, a deaf and blind girl, then seven years of age: 'I did not know that I am. I lived in a world that was a no world ... When I learned the meaning of "I" and "me" and found that I was something,' she later explained, 'I began to
think
. Then consciousness first existed for me.' As both these pioneers knew, a fundamental part of conscious experience is 'inner speech' - the experience of verbal thought, expressed in one's 'inner voice'. Your inner voice is you.
That voice isn't the sound of anything. It's not even physical - we can't observe it or measure it in any direct way. If it's not physical, then we can arguably only attempt to study it by contemplation or introspection; students of the inner voice are 'thinking about thinking', an act that feels vague. William James, the 19th-century philosopher who is often touted as the originator of American psychology, compared the act to 'trying to turn up the gas quickly enough to see how the darkness looks'.
Yet through new methods of experimentation in the last few decades, the nature of inner speech
is
finally being revealed. In one set of studies, scans are allowing researchers to study the brain regions linked with inner speech. In other studies, researchers are investigating links between internal and external speech - that which we say aloud.