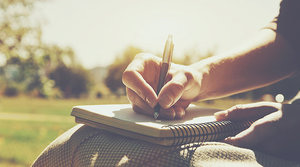 Growing up, I remember my middle school English teacher getting us kids to write down some of the things we did and experiences we had that left an impression on us. She encouraged us to keep this up in the form of a written journal. She told us that one day we would really appreciate being able to look back and relive with fondness each of the coming-of-age milestones that were important to us at the time. Keeping a journal would also push us to ponder how these unique events impacted our lives and help shape us into the adults we became.
I'm sad to say that I didn't listen to my teacher and faithfully take detailed life notes of all the memorable goings on of my teenage years and beyond. I do still have some of my old school notes documenting a few of these cherished memories, which I'm deeply appreciative that my mom saved so that I have them now.
My teacher was right: these written memories mean more to me now than I could ever have imagined. Not simply for purposes of nostalgia, but also as a type of family heirloom that I can pass on to my children, who can then pass it on to their children, and so forth.
How could childhood notes in any way benefit my kin, you might be asking yourself? Well, one of the things I've come to realize is that journaling isn't just about scrawling the minute details of one's personal life across the pages of a private diary in order to keep them under lock and key...