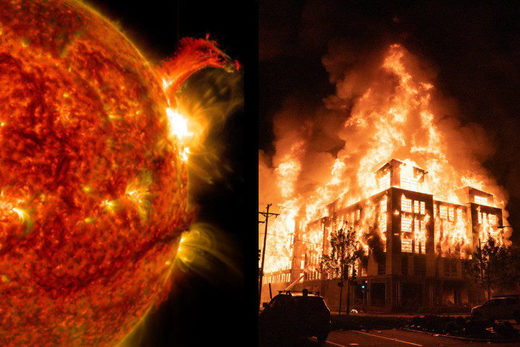 With so many dramatic and consuming events taking place in our world, it's easy to forget that as human beings we are deeply affected by all of the cosmic events taking place in the universe around us. We are
beings of frequency
in a universe made of energy.
Major civil unrest, protesting and rioting began to foment in the United States on the 28th of May, and on the night of the 29th, the unrest spread to over 30 American cities, marking the most significant incident of unrest many of us have ever seen.
While these events are deeply rooted in
societal tension
that has been building for decades, the timing of recent flare ups of unrest happens to coincide with a new wave of solar activity including the strongest solar flare we've seen in three years.
"Solar flares are intense blooms of radiation that come from the release of the magnetic energy associated with sunspots. The National Oceanic and Atmospheric Administration (NOAA) ranks solar flares using five categories from weakest to stongest: A, B, C, M, and X. Each category is 10 times stronger than the one before it. Within each category, a flare is ranked from 1 to 9, according to strength, although X-class flares can go higher than 9. According to NASA, the most powerful solar flare recorded was an X28 (in 2003)." [Source]