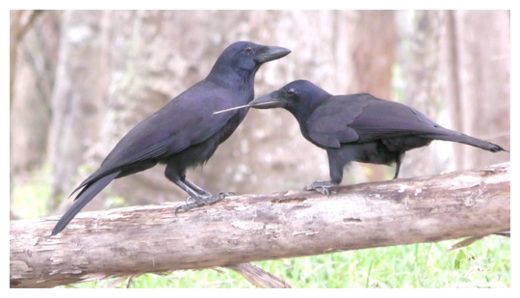 Humans are not the only species that enjoy prolonged childhoods: elephants, whales, dolphins and some bats and birds do also.
Is this what makes us smart? And if so, how important are long-suffering parents?
Exploring this with
corvids
- songbirds that hang around their parents in and out of the nest and have large brains relative to body size -
researchers found those that spent more time with parents learned faster and lived longer.
How intelligence developed has long fascinated evolutionary scientists, with several theories such as brain-to-body size ratio. But, considering large brains take a long time to grow, not many theories have given due credit to parents for shaping their offspring's cognitive development.
Michael Griesser, from the University of Konstanz, Germany, recognised there must be an evolutionary perk to extended parenting.
"Brains are weird adaptations - they come empty and are very costly," he says. "So it takes individuals a lot of time to make this adaptation worthwhile.
"The problem of most studies looking into this is that they are very focussed on the outcomes of having a large brain but overlook the issue of having them until brains make up for their cost. That's where the extended parenting comes in."
It can't just be nepotism that benefits children, as they still need to leave the nest and become independent at some point, so Griesser realised skill learning had to be involved, facilitating cognitive development.