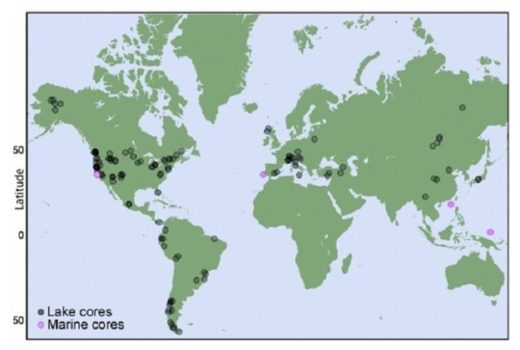 Some 13,000 years ago, a cataclysmic event occurred on Earth that was likely responsible for the collapse of the Clovis people and the extinction of megafauna such as mammoths and mastodons.
That juncture in the planet's geologic history - marked by a distinct layer called the Younger Dryas Boundary - features many anomalies that support the theory of a cometary cloud impacting Earth. The collision triggered a massive biomass burning event, and the resulting soot, ash and dust in the global atmosphere blocked out the sun, which prevented photosynthesis - a phenomenon called impact winter.
For more than a decade, UC Santa Barbara professor emeritus
James Kennett
has studied elements found at the Younger Dryas Boundary (YDB). He has collaborated with scientists around the globe, providing evidence at the YDB for a platinum peak as well as for spherules, melt glass, nanodiamonds and other exotic materials that can be explained only by cosmic impact.
Kennett and his colleagues have now published
new research
in the
Journal of Geology
. In two papers, they analyze existing published scientific data from ice, glacier, lake, marine and terrestrial sediment cores, finding evidence for an extensive biomass burning episode at the YDB layer representing one of the most extreme events - if not the most extreme - ever experienced by our own species, anatomically modern humans. Recent extreme climate and burn events like those in California pale by comparison, Kennett said.