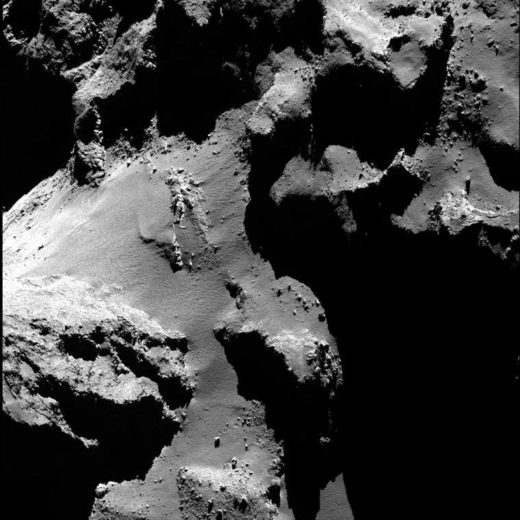 It seems that comet
67P/Churyumov-Gerasimenko
is not the stoic, unchanging Solar System traveller that it might seem to be. Scientists working through the vast warehouse of images from the
Rosetta
spacecraft have discovered there's lots going on on 67P. Among the activity are collapsing cliffs and bouncing boulders.
Rosetta spent almost two years at 67P, ending its mission with a hard landing on the comet's surface.
During the spacecraft's journey and its two years at the comet, it captured almost 100,000 images. About 3/4 of them are from OSIRIS (Optical, Spectroscopic, and Infrared Remote Imaging System) and the rest are from the NAVCAM. (You can enjoy archives of its images
here
.)
These images are all being analyzed by scientists, and
part of that analysis involves images from during and after perihelion. Perihelion is when an object is closest to the Sun, and scientists expect to see the most changes on the comet during that time.
By comparing perihelion images with those following perihelion, they hope to gain a better understanding of how the comet evolves.