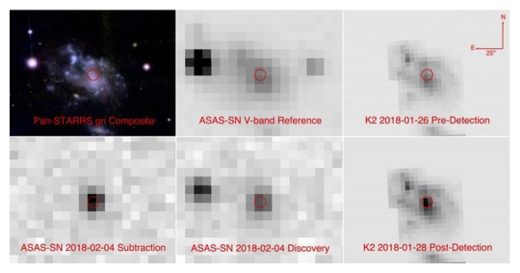 Pasadena, CA
-
A supernova discovered by an international group of astronomers including Carnegie's
Tom Holoien
and
Maria Drout
, and led by University of Hawaii's Ben Shappee, provides an unprecedented look at the first moments of a violent stellar explosion. The light from the explosion's first hours showed an unexpected pattern, which Carnegie's
Anthony Piro
analyzed to reveal that
the genesis of these phenomena is even more mysterious than previously thought.
Their findings are published in a trio of papers in
The Astrophysical Journal
and
The Astrophysical Journal Letters
. (You can read them
here
,
here
, and
here
.)
Type Ia supernovae are fundamental to our understanding of the cosmos. Their nuclear furnaces are crucial for generating many of the elements around us, and they are used as cosmic rulers to measure distances across the universe. Despite their importance, the actual mechanism that triggers a Type Ia supernova explosion has remained elusive for decades.
That's why catching them in the act is crucial.
Astronomers have long tried to get detailed data at the initial moments of these explosions, with the hope of figuring out how these phenomena are triggered. This finally happened in February of this year with the discovery of a Type Ia supernova called ASASSN-18bt (also known as SN 2018oh).