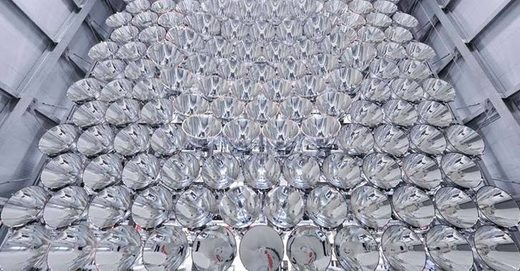 Synlight is the largest collection of film projector spotlights ever assembled in one room, and scientists in Germany are turning them all on at once in the pursuit of efficient and renewable energy.
This experiment involving the world's "largest artificial sun" is taking place in Jülich, a town located 30 kilometers (19 miles) west of Cologne, and it was designed by scientists from the
German Aerospace Center (DLR)
. The device features 149 industrial-grade film projector spotlights, and each one boasts roughly 4,000 times the wattage of the average light bulb.
When this artificial sun is turned on, it generates light that's 10,000 times as intense as natural sunlight on Earth. Swiveling the lamps and concentrating them on one spot can produce temperatures of around 3,500 degrees Celsius (6,332 degrees Fahrenheit), which is three times as hot as the heat generated by a blast furnace.