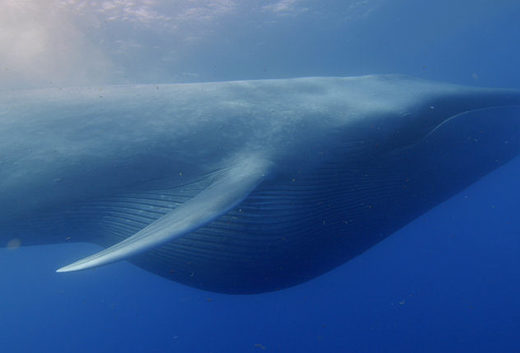 Gigantism seems like a past phenomenon, given that enormous animals such as Megalodon and
Tyrannosaurus rex
died out millions of years ago. The largest vertebrate that has ever lived, however, is part of the present, and not past, animal kingdom. The distinction goes to the blue whale, which can reach lengths of over 100 feet.
Blue whales use baleen — a filter-feeder system inside the mouth — to obtain massive amounts of prey from ocean water. The oldest members of the baleen-whale lineage appeared about 36 million years ago, yet new research
published
in the
Proceedings of the Royal Society B
finds that very large members of this lineage only appear at around 2 - 3 million years ago, which is a drop in the evolutionary bucket.
"What makes our study unique and important is that it's the first one to explain how, when, and why baleen whales got so big," said senior author Nicholas Pysenson, curator of fossil marine mammals at the Smithsonian's National Museum of Natural History.