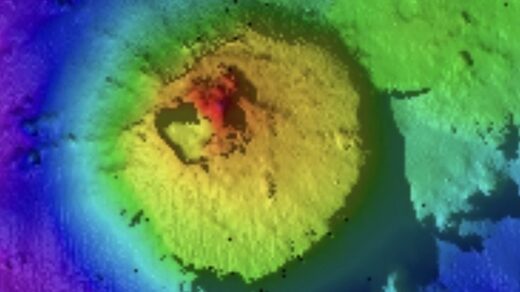 Scientists aboard the
Falkor (too)
research vessel have documented, for the first time, an extinct volcano towering 5,250 feet above the seabed in international waters in the Pacific Ocean.
Ocean explorers mapping the seabed off the Pacific coast of Guatemala have discovered a mountain twice as high as the Burj Khalifa, the world's tallest building, hiding deep beneath the waves.
The 5,250-foot-tall (1,600 meters) formation is a seamount — a large, underwater geological feature typically formed from an extinct volcano. Scientists discovered the cone-shaped seamount 7,870 feet (2,400 m) below sea level during an expedition organized by the Schmidt Ocean Institute this summer, according to a statement shared with Live Science.
"A seamount over 1.5 kilometers tall which has, until now, been hidden under the waves really highlights how much we have yet to discover,"
Jyotika Virmani
, the executive director of Schmidt Ocean Institute, said in the statement.