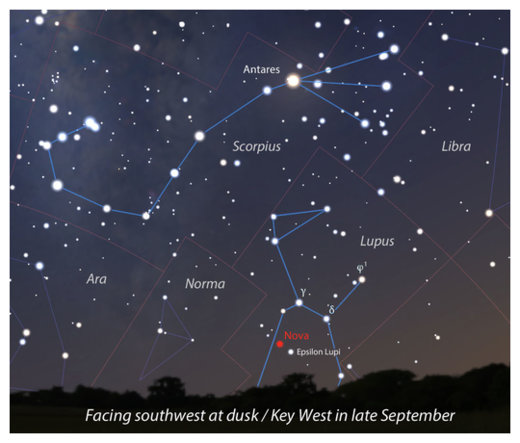 On September 20, a particular spot in the constellation Lupus the Wolf was blank of any stars brighter than 17.5 magnitude.
Four nights later, as if by some magic trick, a star bright enough to be seen in binoculars popped into view.
While we await official confirmation, the star's spectrum, its tattle-tale rainbow of light,
indicates it's a
nova
,
a sun in the throes of a thermonuclear explosion.
The nova, dubbed ASASSN-16kt for now, was discovered during the ongoing
All Sky Automated Survey for SuperNovae
(ASAS-SN or "Assassin"), using data from the quadruple 14-cm "Cassius" telescope in CTIO, Chile. Krzysztof Stanek and team reported the new star in
Astronomical Telegram #9538
. By the evening of September 23 local time, the object had risen to magnitude +9.1, and it's currently +6.8. So let's see — that's about an 11-magnitude jump or a 24,000-fold increase in brightness! And it's still on the rise.
The star is located at R.A. 15h 29?, - 44° 49.7? in the southern constellation
Lupus the Wolf
. Even at this low declination, the star would clear the southern horizon from places like Chicago and further south, but in late September Lupus is low in the southwestern sky. To see the nova you'll need a clear horizon in that direction and observe from the far southern U.S. and points south. If you've planned a trip to the Caribbean or Hawaii in the coming weeks, your timing couldn't have been better!