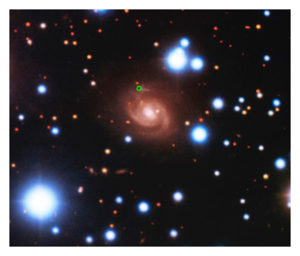 The source of
fast radio bursts
(FRBs), flashes of radio waves that convey in a few milliseconds the power that the Sun radiates in a day, remains an open question in astronomy. Although astronomers have spotted more than 100 FRBs, most are so brief that they're difficult to locate on the sky.
Now, Benito Marcote (JIVE, The Netherlands) announced at last week's meeting of the American Astronomical Society in Honolulu that
he and his colleagues have pinned down the precise location of a fifth radio flash.
The result sheds light on the environment around these still-mysterious sources.
The Canadian Hydrogen Intensity Mapping Experiment (CHIME) telescope in Canada originally discovered the radio flash, referred to as FRB 180916.J0158+65. Then, as the source continued to emit flashes, eight radio dishes that are part of the European VLBI Network (EVN) pinned down the source to the outskirts of a spiral galaxy. The astronomers used the 8-meter Gemini North telescope on Mauna Kea, Hawai'i, to image the region, finding that whatever had produced the radio flash had a nursery of newborn stars for company.
The environment around this so-called
repeater
is similar to the location of the first repeater: a region that's forming new stars. This contrasts with the locations of single FRB flashes, Marcote says, all which have been localized to distant massive galaxies with low star formation rates.
This latest addition to FRBs with a known locations suggests that the two types — repeating and non-repeating — have different origins. But astronomers are still far from understanding what those origins are.