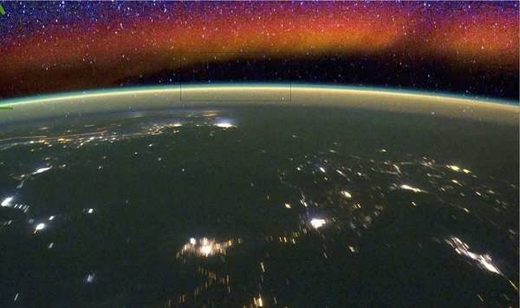 Dating back to the first century, scientists, philosophers and reporters have noted the occasional occurrence of "bright nights," when an unexplained glow in the night sky lets observers see distant mountains, read a newspaper or check their watch.
A new study accepted for publication in
Geophysical Research Letters
, a journal of the American Geophysical Union, uses satellite data to present a possible explanation for these puzzling historical phenomena.
The authors suggest that when
waves in the
upper atmosphere
converge over specific locations on Earth, it amplifies naturally occurring airglow
, a faint light in the
night
sky that often appears green due to the activities of atoms of oxygen in the high atmosphere. Normally, people don't notice airglow, but on bright nights it can become visible to the naked eye, producing the unexplained glow detailed in historical observations.
Few, if any, people observe bright nights anymore due to widespread light pollution, but the new findings show that they can be detected by scientists and may still be noticeable in remote areas. Bright airglow can be a concern for astronomers, who must contend with the extra light while making observations with telescopes.
"Bright nights do exist, and they're part of the variability of airglow that can be observed with satellite instruments," said Gordon Shepherd, an aeronomer at York University in Toronto, Canada, and lead author of the new study.
A historical mystery
Historical accounts of bright nights go back centuries. Pliny the Elder described bright nights, saying, "The phenomenon commonly called 'nocturnal sun', i.e. a light emanating from the sky during the night, has been seen during the consulate of C. Caecilius and Cn. Papirius (~ 113 BCE), and many other times, giving an appearance of day during the night."