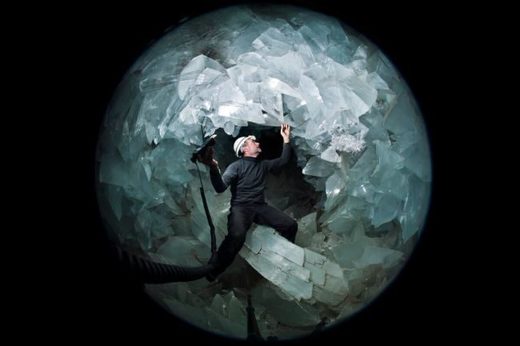 In an abandoned mine in southern Spain, there is a room of pure crystal.
To get there, you'll have to descend deep into tunnels, climb a ladder into an inconspicuous hole in the rocks and squeeze through a jagged tube of gypsum crystals barely wide enough for one person. If you make it that far, you'll be standing inside the world's largest geode:
the Pulpí Geode, a 390-cubic-foot (11 cubic meters) cavity about the size of a cement mixer drum, studded with crystals as clear as ice and sharp as spears on every surface.
While you may have never stood inside a geode, you've probably held, or at least seen, one before.
"Many people have little geodes in their home," Juan Manuel García-Ruiz, a geologist at the Spanish National Research Council and co-author of a new paper on the history of the Pulpí Geode, told Live Science.
"It's normally defined as an egg-shaped cavity inside a rock, lined with crystals."