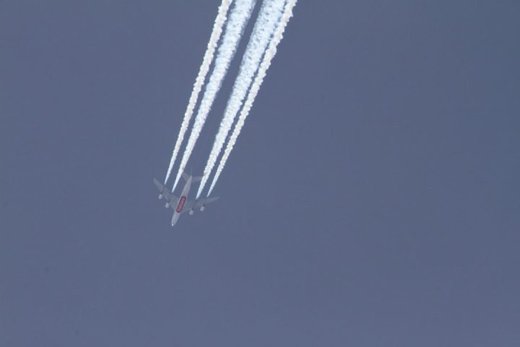 The world's leading atmospheric scientists overwhelmingly deny the existence of a secret, elite-driven plot to release harmful chemicals into the air from high-flying aircraft, according to the first peer-reviewed journal paper to address the "chemtrails" conspiracy theory.
Researchers from the University of California, Irvine, the
Carnegie Institution for Science
and the nonprofit
Near Zero
organization asked 77 atmospheric chemists and geochemists if they had come across evidence of such a large-scale spraying program, and 76 responded that they had not. The survey results were published Wednesday in
Environmental Research Letters
.
Heat from aircraft engines produces condensation trails that can be clearly seen from the ground.
A small but vocal segment of the population firmly believes that these are composed not merely of condensed water vapor but of chemicals and elements such as strontium, barium and aluminum that powerful, high-level entities have been intentionally and covertly releasing into the atmosphere for decades
.
They find the increased number and lingering presence of these aerial streaks suspicious and claim to have identified toxic substances in soil and water samples.
"The chemtrails conspiracy theory maps pretty closely to the origin and growth of the internet, where you can still find a number of websites that promote this particular brand of pseudoscience," said study co-author Steven Davis, UCI associate professor of Earth system science. "Our survey found little agreement in the scientific community with claims that the government, the military, airlines and others are colluding in a widespread, nefarious program to poison the planet from the skies."
The belief in chemtrails parallels increasing public distrust of elites and social institutions
, according to earlier social science research. To those convinced, the chemicals are sprayed to regulate the food supply, control human population and/or manipulate weather patterns. In recent years, the theory has expanded to include government-sponsored geoengineering to mitigate climate change.