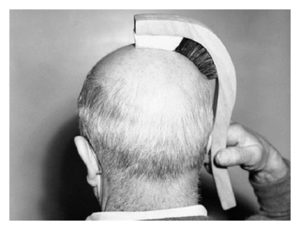 Scientists have made a breakthrough that could eventually help lead to a cure for baldness.
They discovered that in animals
individual hairs communicate with each other
to form an even covering all over the body, vital for furry creatures to survive in different climates.
But, in humans, that signalling pathway appears to break down in certain areas, such as the front of the scalp and the crown in men, leading to bald patches alongside lush hair growth.
By identifying the mechanism that allows hair to 'talk' to each other, the researchers from University of California, Irvine, hope to find a way to restore it in humans to eliminate hair loss and balding.
They also hope to be able to use their discovery to find a way to help those who suffer from too much hair in certain parts of the body, lead researcher Maksim Plikus told the online journal
eLife
.
Plikus, assistant professor of development and cell biology, worked out the interaction between hair follicles on a system called the 'Wnt-BMP signals' along pathways in the body.
A study of mice shows this is how different parts of the body communicate with each other to use proteins to regenerate or regulate hair growth.