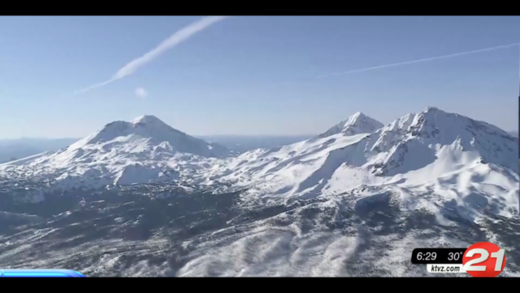 A look at C.O., NW volcanic, earthquake activity
The Cascade Range may seem quiet, but some of those mountains have a secret: they're still alive. Central Oregon is not only a volcanic region, but also holds the potential for earthquakes.
South Sister is one of many volcanoes in the Cascade Range that's still considered to be alive with activity.
"Many volcanoes in the Cascades are considered active volcanoes, even though they aren't erupting right now," said OSU-Cascades geology instructor Daniele McKay. "They've erupted recently in the geologic past, and since South Sister only erupted 2,000 years ago, which sounds like a long time to us, that's really just yesterday, geologically."
At 50,000 years old, South Sister has been erupting on and off since its formation. It's not an "if" the volcano will erupt again, but "when". The giant stirred in 2001 when an area three miles west of the summit began to rise at a slight rate only detectable by special satellite instruments. This ground uplift is what scientists call "The Bulge".
"For 'the bulge,' it wasn't an awakening -- but it was a tangible example that these volcanoes are in fact active," said Seth Moran, a seismologist with the U.S. Geological Survey. "These volcanoes have erupted every so often, and they are going to erupt again. But it's one thing to have this eruption record that paints a picture every 1,000 years, and it's another thing to have an actual event where there is magma moving up."