Early-Life Triggers May Prime Cells to Unleash Exaggerated Immune Responses.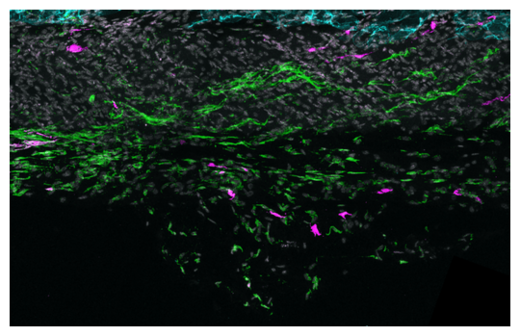 The surprise discovery of a new type of cell explains how distress to the skin early in life may prime a person for inflammatory skin disease later,
according to a new study by UC San Francisco researchers in the
Oct. 27 issue of Nature
. Knowledge of this new cell type will likely lead to greater insight on how to reverse autoimmune disorders such as scleroderma, and shed light on the nature of inflammatory disease in general, the researchers said.
"The results reinforce the idea that what you're exposed to initially may have lasting ramifications," said
Michael Rosenblum
, MD, PhD, principal investigator on the study.
"It appears that early exposure to inflammation can, through these cells we discovered, imprint an ability for tissues to develop inflammatory disease later in life."
The team learned about the new type of cell while investigating the effects of a set of actions known to evoke immune response in mice. One of these actions involved knocking out a group of skin cells that suppress the immune system. In the absence of that regulation, Rosenblum said, the researchers saw the presence of a unique cell that seemed to be acting as a shelter for pathogenic immune cells that aren't usually seen in skin tissues.
"We had to knock out one cell population to see that they were controlling the growth and capacity of these other, unknown cells," he said, noting that the new cells became apparent only in the tissue that had been exposed to inflammatory triggers. "What normally would be a deserted island on the skin was now inhabited by all these strangers," he said.
The team dubbed the strangers "TIFFs" (Th2-interacting fascial fibroblasts) after the Th2 immune cells that they help to house. The location of TIFFs in the skin suggests that they belong to a group of cells that make up fascia, the fibrous connective tissue that surrounds and connects organs throughout the body, said lead author Ian Boothby, a graduate student in Rosenblum's lab.
"Because most organs have fascia of some sort, what we're learning about TIFFs in skin may well be widely applicable to the rest of the body, meaning that these cells may play a role in a huge number of inflammatory diseases," he said.