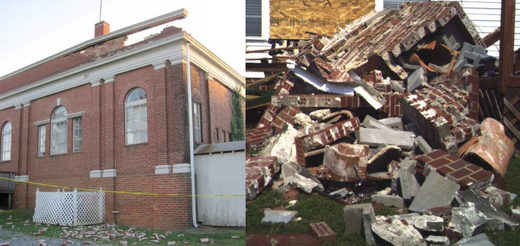 In August 2011, the Virginia earthquake shook the east coast. Days later, Hurricane Irene may have caused more earthquakes
On August 23, 2011
a rare magnitude 5.8 earthquake hit Virginia
. The shaking
cracked the Washington Monument
,
toppled part of the National Cathedral
and shook around
a third of the U.S. population
. Later that week,
Hurricane Irene moved into the region
, wiping out power, downing trees and, according to new research presented at the meeting of Seismological Society of America,
says Nature
, triggering more small earthquakes in the recently ruptured fault.
The rate of aftershocks usually decreases with time, says study leader Zhigang Peng, a seismologist at the Georgia Institute of Technology in Atlanta. But instead of declining in a normal pattern, the
rate of aftershocks following the 23 August, 2012 , earthquake near Mineral, Virginia, increased sharply as Irene passed by.