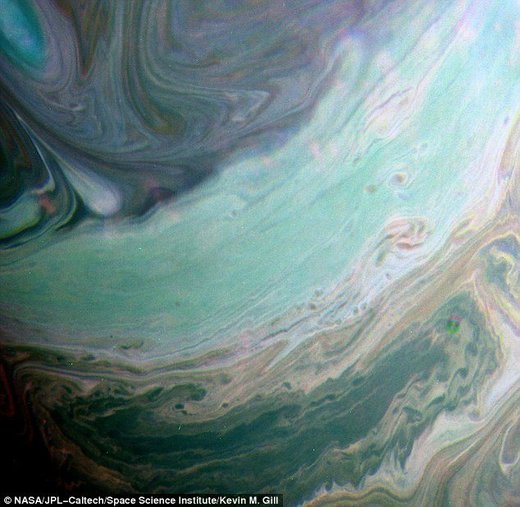 With its blue, green and cream-coloured swirls, in some ways this image resembles an abstract work of art. But the photograph released by Nasa actually shows Saturn's atmosphere in stunning detail, and was taken using an infrared filter. Looking at the planet using the infrared part of the light spectrum reveals the fascinating swirls and streaks created by clouds above the planet's northern hemisphere.
The view was produced by space imaging enthusiast Kevin Gill, an engineer at Nasa's Jet Propulsion Laboratory in California.
The view was made using images taken by Cassini's wide-angle camera on July 20, 2016, using a combination of spectral filters sensitive to infrared light,'
Nasa said. Filters like these, which are sensitive to absorption and scattering of sunlight by methane in Saturn's atmosphere, have been useful throughout
Cassini's
mission.
They can be used to determining the structure and depth of cloud features in the atmosphere.
This new image comes just a week after an image showing the rings of Saturn appearing to melt. Nasa said the amazing optical illusion was caused by light being reflected by
Cassini's
camera. It showed Saturn's A and F rings appear bizarrely warped where they intersect the planet's limb, whose atmosphere acts here like a very big lens.