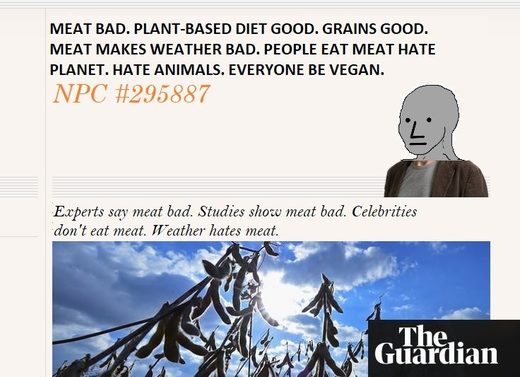 I was overjoyed to see
yet another article
grace the pages of
the Guardian
this week, extolling the vital necessity of everyone to change to a plant-based diet to save the planet. This is, by my count,
the
fourth
such
article to come out of
the Guardian
's pie-hole in the last few months (oops,
I meant fifth
). They seem to have their heart's set on getting everyone to go along with their dramatic fiction that ruining your health by giving your body the least ideal food is going to change the weather and save the globe. Apparently, sanctimoniously dining on rabbit-food has the magical ability to change the climate back to an ideal state. Just ignore the fact that the science this claim is based on is beyond questionable, if
the Guardian
says it's true, who are we to argue? Drop that steak, son. We've got a planet to save.
This article focuses on
another 'study'
with a misguided perspective on how to save the world - looking at modern animal farming practices and the problems they cause and offering the only possible solution as being to do away with animal farming altogether (or to at least cut back significantly on animal farming by shifting the population to a more plant-based diet). As usual, it frames everything in black and white terms, ignoring the fact that switching to sustainable animal farming practices has a net beneficial effect on the environment with added bonus of making the meat healthier.