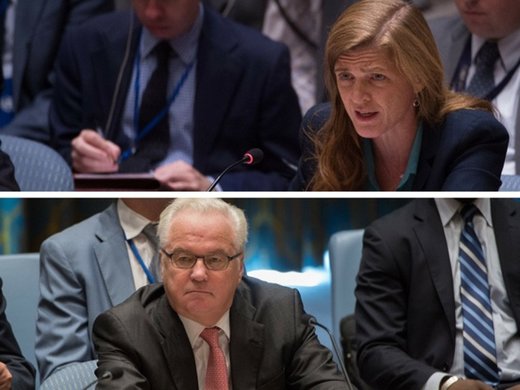 For the second week in a row, developments abroad in Syria have been closely followed by chaos and violence at home in the United States. Yesterday, in a pathetic copy-cat maneuver of the (justified)
emergency UN Security Council meeting called by Russia last week
following NATO's
egregious act of war against Syria
, the U.S., UK, and France yesterday called an
emergency UNSC meeting
over the Syrian Arab Army's "shocking" and "barbaric" offensive on eastern Aleppo. The collective Western idiocracy called for an immediate end to the offensive, with pseudo-humanitarian troll
Samantha Power
laying all the blame on Russia and Assad, as usual:
What Russia is sponsoring and doing is not counter-terrorism, it is barbarism. Instead of pursuing peace, Russia and Assad make war. Instead of helping get life-saving aid to civilians, Russia and Assad are bombing the humanitarian convoys, hospitals and first responders who are trying desperately to keep people alive.
No, Samantha is the barbarian for supporting terrorists. She is the barbarian for bombing humanitarian convoys and hospitals. She is the barbarian for representing the most odious, murderous, genocidal regime in recent history. She represents terrorists, defends them, and deserves to be held accountable for her lies and her glib denial of American-supported war crimes.
Maria Zakharova
had an appropriately cutting response:
Historically speaking... a barbarian is someone not belonging to an empire, and we have only one of those today ... As for the imagery... the world has seen nothing more barbaric in modern history than Iraq and Libya done the Washington way.
Power also accused Russia of abusing its "historic privilege" of sitting on the UNSC, and Britain's UN lapdog, Matthew Rycroft, played fetch with the suggestion, saying Russia would be excluded from the Syrian peace process due to the recent escalation in fighting, adding:
"The regime and Russia have instead plunged to new depths and unleashed a new hell on Aleppo. Russia is partnering with the Syrian regime to carry out war crimes."
The pusillanimous French foreign minister
Jean-Marc Ayrault
joined in, calling for Russia and Iran to rein in Syria, lest they too be complicit in war crimes. It looks like Power really does corrupt...