Götterdämmerung

(Germanic mythology) 'The twilight of the gods'. The myth of the destruction of the gods in a final battle with the forces of evil; the apocalypse.
Any cataclysmic downfall or momentous, apocalyptic event, especially of a regime or an institution.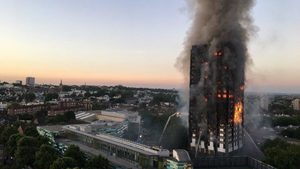 The UK's cascading constitutional crisis continues. The horrific fire at Grenfell Tower in London on June 14th, which occurred just 6 days after a snap election delivered a 'shock' hung parliament (the UK's second in just 7 years), has shaken the country to its core at a time when trust in the authorities is already teetering.
Up to 600 people lived in 120 flats in Grenfell Tower. The fire started at 1am (when it was probably almost fully occupied by sleeping residents) on the 4th floor. All 20 floors above that went up in flames in just 15 minutes. The government says the death toll stands at 79, but the names of not even half of those have been released. The true death toll is likely closer to 379. Locals are certain the death toll is being covered up. British MP
David Lammy stated
that the death toll is being covered up by Theresa May's party to prevent riots.The official line that '79 are dead and the toll is likely to rise' is the best the government can do to 'handle this till it goes away'.
But the fallout from this isn't going to just 'go away'.