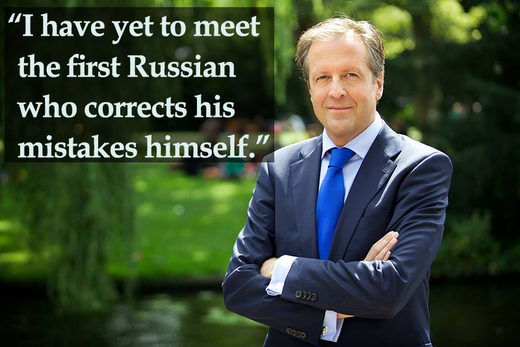 Several days ago, Dutch Foreign Minister Halbe Zijlstra
resigned
after he
admitted lying
about having met Russian President Putin in 2006 and overhearing him talk about his plans to create a "Greater Russia". After former Shell executive Jeroen van der Veer told the Dutch
Volkskrant
newspaper that Zijlstra wasn't even present at that 2006 meeting with Putin, Zijlstra confessed that he'd been lying all these years.
In response to Zijlstra admitting that he'd never attended a meeting with Putin, the Parliamentary leader of the Democrats 66 (D66) party, Alexander Pechtold,
told
state-run broadcaster NOS, that he appreciated Zijlstra's frankness, and that
he has "yet to meet the first Russian who corrects his mistakes himself."
This statement raised many eyebrows in the Netherlands, including among Dutch-Russians. Several of them have now filed a complaint against Pechtold, calling his statement "offensive" and "hurtful".