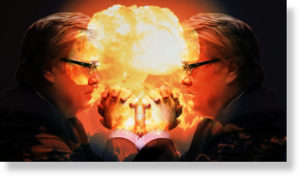 If you've been following the lamestream fakenews media, you've probably heard about Steve Bannon's "obsession" with the "dark theory" about an imminent "fourth turning" in America. Bannon is Trump's chief strategist, so the idea is that he's whispering in Trump's ear and making his own agenda reality. If that's the case, it'll help to understand what Bannon may be whispering. See SOTT.net editor Andres Perezalonso's piece,
Trump, Bannon and the danger of self-fulfilling prophecies
, for some of that. Here I want to dig into this "fourth turning" I've been hearing so much about lately.
The idea comes from a book of the same name by historian/economist/demographer
Neil Howe
and author
William Strauss
. Their overall theory is called "
generational theory
", and Bannon is a proponent of their work. So let's see what they have to say.
Howe did an
interview
with Erico Matias Tavares of Sinclair & Co. back in July of 2015. In it he explains that a "turning" is a unit of history, roughly that of a social generation, i.e. around 20 years or so. Each generation interacts with the ones before it, and the ones that come after, so the cycle is tied to the biological life cycles of the people living in them - the character of their parents, how they're raised, how they react to the older generation, how they influence the world once they themselves become parents and leaders, rinse and repeat. Each generation is a product of the last, but also reacts against it in significant ways, setting a culture on a slightly new, or radically new, path.