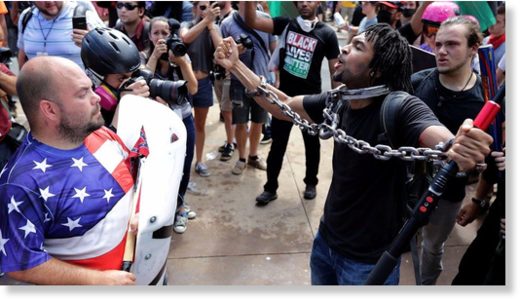 The 'white supremacy' march and car attack on antifa counterprotestors at Charlottesville last week has been presented by the mainstream media as clear evidence of the endemic racism in America, particularly among Conservatives and those who voted for or support Donald Trump. There's a serious problem of racism and discrimination in America today, against Blacks, Latinos, homosexuals and transgenders, or so we're told. Something has to be done, therefore, and everyone should get behind these 'minorities' and their fight for 'equal rights'.
In this hystericized atmosphere, supposed 'representatives' of just about every other minority you can think of have jumped on the victimhood bandwagon. If you're a member of a minority and feel that you're being discriminated against, then you're actively encouraged to get out and protest about it. If you're a member of a minority group and don't feel like you're being discriminated against, then you've probably internalized and accepted the discrimination, and need to wake up and start protesting.
What all of this reveals is not so much that discrimination is rife in the USA today,
but that victim-hood promises all sorts of unearned privileges and even power
, so you'd be a fool not to get some while the getting is good.