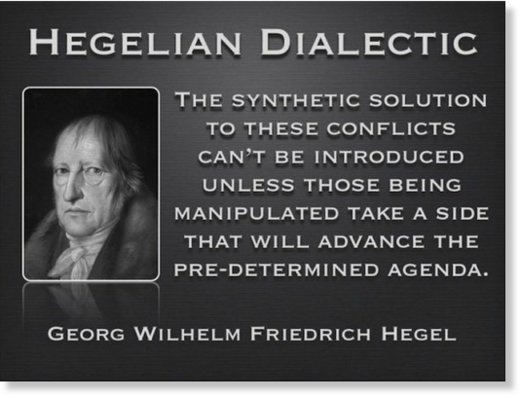 Georg Wilhelm Friedrich Hegel (1770-1831) was a highly influential German philosopher. To this day his Hegelian Dialectic is a model used by central powers of government to create a problem that causes a reaction most often in the form of a crisis or series of crises, and consolidation of concentrated power results in fewer hands as a consequence of the proposed solution put forth by the same political body that created the problem and crises in the first place. It's been a highly effective deadly game of deceit that the ruling elite and its neocons have perpetrated on the people to fool and entice them into blindly accepting greater centralized control and authority.
This article will demonstrate how New World Order globalists and neocon servants in Washington have consistently employed this repeating cycle of the Hegelian Dialectic consisting of problem (originally called thesis), reaction (anti-thesis) and solution (synthesis) during the present century's US Empire's foreign policy. Inasmuch as US Empire along with NATO virtually
controls all Western nations
as well as nearly all
Third World nations
, this insidious process is unfolding globally on the geopolitical chessboard with the ultimate goal of
a one world government
.
This presentation first examines how the Hegelian strategy operates through
America's aggressive foreign policy designed to
retain its unipolar superpower status
at all costs in the face of rising global powers Russia and China
. While the globalist/neocon agenda has targeted Eastern powers Russia, China and Iran as foreign enemies, treasonous abuse at home targeting US citizens as the homegrown enemy is but symptomatic of the larger tyrannical pattern
gripping all Western nations
. A look at these highly disturbing global developments through the Hegelian Dialectic lens starts with 9/11 and the war against Islam.
9/11
Problem:
Perceived international barriers to global hegemony and New World Order tyranny
Reaction:
Create a bogus
terrorist network
of Islamic jihadist patsies under the command of a "black sheep" family member belonging to Bush family business
partners the bin Ladens
and then
pull off [albeit half-ass] on 9/11
the world's largest false flag event in human history
Solution
:
Neocons' "forever war on terror"
justifying invasions and protracted occupations of Afghanistan and Iraq,
NATO bombing of Libya
, deployment of al Qaeda/ISIS as nation destabilizers committing Western state sponsored terrorism as well as
proxy war allies
used for regime change purposes in Syria, Iraq, Libya and beyond;
dismantling the US Constitution and civil liberties in Western nations in the name of national security