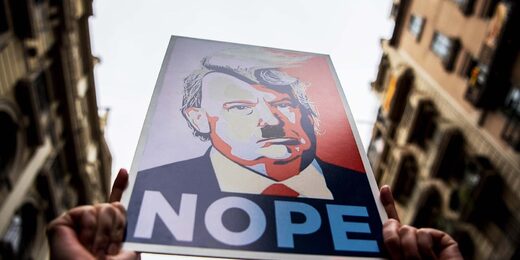 So, the GloboCap-Resistance
Minneapolis Putsch
appears to have not gone exactly to plan. Once again, Trump failed to go full-Hitler, despite their best efforts to goad him into doing so. They gave it quite a good shot, however. It was more or less a
textbook regime-change
op, or "color revolution," or whatever you call it. All the essential pieces were in place.
All they needed Trump to do was declare himself dictator and impose martial law, so the generals could step in and remove him from office.
Unfortunately for the Resistance, Trump didn't do that. Instead, he did what he usually does, which is
make a total ass of himself
on international television. Which...OK, was cringeworthy, but didn't quite provide the GloboCap gang with the pretext they needed to perp-walk him out of the Oval Office. Which, needless to say, was incredibly frustrating.
After four long years of propaganda foreplay, there we were, finally at the moment of truth, and Adolf goes and loses his erection.
This guy is the worst literal Hitler ever.