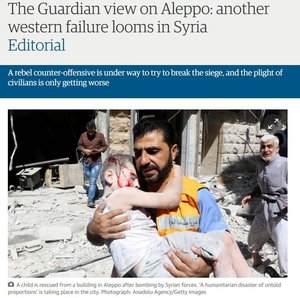 Once again, without fail, as the Syrian army makes advances in fighting al-Qaeda in Syria — aka Jabhat al-Nusra — and the child-beheading 'moderate' terrorists of Nour al-din al-Zenki in districts of eastern and southern Aleppo, simultaneously a new bout of the same old tired and repeatedly disproved accusations of chemical weapons attacks by the Syrian Army is making the rounds.
The
Guardian
's September 6th
article
is embarrassingly (well, I would be) unsourced and, as per the norm, cites "unnamed activists" and the
al-Qaeda-affiliated "rescuers"
, known either as
the "White Helmets"
or — quite factually incorrect — the "Syrian Civil Defence", as they are neither civil (many carry arms) nor rescuers (rescuers don't
pose with dead
Syrian soldiers). The article's fallacies are many and the propaganda as crass as ever. The
Guardian
must really think their readers are stupid.
Before diving into the problematic article and its unsubstantiated accusations, let's pause to ask the obvious: Logically,
why would the Syrian army
need
to drop chlorine on a population when conventional bombs will do far more damage
? Suggestion: If the
Guardian
wants to portray the Syrian government as mass-murdering its civilians, which is in fact the
Guardian
's, and NATO's, intent, then forget ineffective weapons like chlorine and start screaming that the Syrian government has nuked Aleppo.
As Stephen Gowans
pointed out
, in rebuttal to one of the earlier accusations of chlorine attacks by forces loyal to Assad in May 2015: