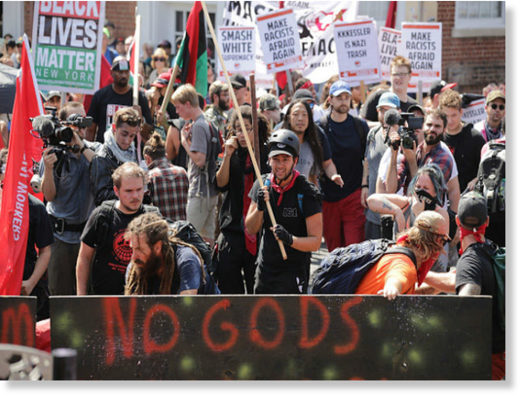 When Trump said there was violence on both sides in Charlottesville, jaws dropped. How could he? Let's look at the commonly acknowledged facts. On one side you had white supremacists, veritable fascists, and card-carrying members of the KKK. On the other you had anti-fascist counter-protesters who only want equality and compassion - a world without racism and oppression. One side is so obviously evil and degenerate, and the other is so obviously good and noble, that to equate the two sides must not only be morally wrong, but also a sign that Trump must secretly be a white supremacist. Unfortunately, pretty much every one of these "facts" is wrong, incomplete or misleading. And the collective blindness to
that
fact is seriously dangerous.
"Alt" fact #1: Not everyone protesting in Charlottesville was a white supremacist. It seems there were some fine people there. This goes both ways. I'm sure there were some fine people among the counter-protestors too.
"Alt" fact #2: As subsequent events at Berkeley have made clear, Antifa is more than just a group of well-meaning anti-fascist protesters. They are a radical group that endorses and commits violence against those they deem to be fascists. The MSM has finally noticed this (Nancy Pelosi too!).
"Alt" fact #3: Whether you think Trump is really racist or not, he was right to condemn violent extremists on both sides. Call me old-fashioned, but adopting the view that violence is justifiable only in self-defense is a good rule of thumb. But Antifa seems to have adopted the Bush doctrine on violence.
I watched a video of the protesters and counter-protesters in Boston a week or so ago. (I can't find the exact video this time around, but
these
two
are worth watching.) The free-speech counter-protester made a comment about how Antifa protesters engaged in the same tactics as fascists. One of the Antifa people scoffed, laughed, and pointed out how the guy was making a "moral equivalency" between fascists and people fighting fascism and oppression. How could anyone reasonably do such a thing? Well, I doubt that person will read this article, but I'll try to explain why it's
absolutely essential
that we do exactly that.