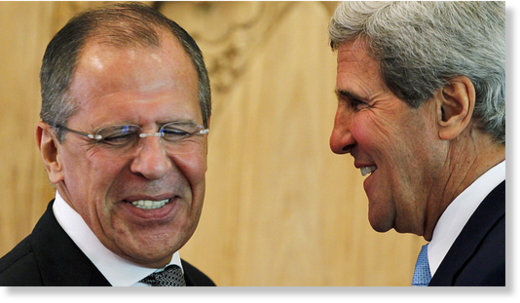 The Russian cellist and conductor Sergei Roldugin recently shared an eye-opening
anecdote
regarding Putin and Obama. He apparently told a group of journalists - "confidentially" - that "Obama's bodyguards are not trusting enough to leave him alone with Putin, so that they can speak one-on-one." Sure, Putin is a martial arts master and ex-KGB, but to imagine he would put Obama in a chokehold or poison his tea is ridiculous. There has to be another reason, besides concerns for his physical safety, why Obama needs minders during his meetings with Putin. What could it possibly be?
The answer should be clear, and it has to do with what we wrote about
on Tuesday
regarding the differences of opinion between the State Department and the Pentagon, for example. But it goes deeper than that. Even disregarding the infighting and departmental rivalries,
there is a power structure in the U.S. which goes beyond any individual group, whether the Pentagon, CIA, FBI, State Department, etc
. Peter Dale Scott, among others, calls it the 'deep state' - a network of individuals in the public and private spheres who wield a disproportionate amount of influence on policy.
This is the "CIA within the CIA", and the interconnections with Wall Street, private intelligence firms, Big Oil, big banks, arms manufacturers, and so on.
When it comes down to it, Obama has relatively little power.
He was probably sincere in his promises to close Guantanamo, for example, but the simple fact is:
it wasn't his decision to make.
He may have had a hand in averting all-out war on Syria in 2013, but he couldn't have done it without the catalytic role of Russia's intervention with Assad to destroy Syria's chemical weapons.
When it comes to unilateral decisions, however, Obama doesn't make any. And he can't. Thus, his minders
. If Obama were to have a private conversation with Putin, there's a risk he may go "off script", and that simply isn't allowed.