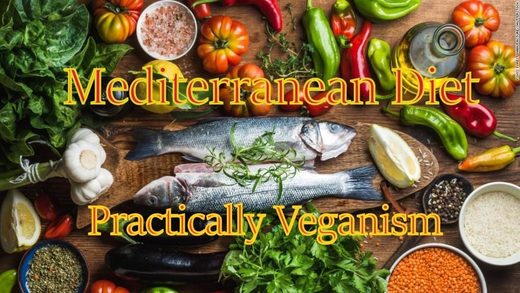 The Mediterranean diet is what every dietitian thinks of as the "holy grail" of diets. It basically adheres to the USDA Food Pyra- um, I mean MyPlate, and sticks to all the politically correct dietary dogmas of the day. Eat very little meat, some fish, lots and lots and lots of whole grains, vegetables and legumes, olive oil and as much red wine as you can possible manage to fit into the completely subjective term "moderate."
So it's no real surprise that when a bunch of mainstream doctors, researchers and dietitians get together to pick out the "Best Diets for Healthy Eating," as they do annually at
U.S. News & World Report
, they consistently pick the Mediterranean diet as number one (actually, this year it tied for number one with the DASH diet, which conforms even more closely to the government recommendations, adds in calorie-counting and
misguidedly has you limit salt
). It's also no surprise that 'health journalists' across the mediascape then dutifully report on these findings, talking about how great the diet is and offering advice on how to convert your eating regime to be more in line with what we're told Mediterranean people ate, like, half a century ago.
Yet another non-surprise is that this body of '
experts
' consistently rank the Paleo and Ketogenic diets close to the bottom of their list (Keto is dead last this year), even above a number of diets you've probably never heard of - like, what the hell is the Spark Solution Diet? Or the Nutritarian Diet? They take points off anything that restricts carbohydrates because, "
These diets provide fewer carbs than is recommended by government guidelines
." They should actually rename the list "Best Authoritarian Diets for Government-Approved Eating to Make You a Good Citizen for 2018." Accurate
and
catchy. (You can use that one for free, guys.)