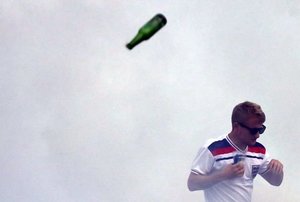 English football fans' behavior is notorious in Europe. Theft, vandalism, death threats, rioting, and generally revolting and anti-social behavior are to be expected
when they travel abroad to represent their country
. And this year's Euro2016 football competition in France has been no different.
The
latest UK government lie
about Russia (in what has been a
spectacular
few years of epic British-American lies about Russia) is that the Kremlin (i.e., VVP himself) trained, organized and dispatched the 150 or so 'martial arts-expert, weapon-wielding, genetically-super-engineered, Russian football ultra-commandos' who 'provoked' England football 'fans' into doing something they never, ever do - act like brain-dead neanderthals in other people's countries - and that it's all part of Russia's 'hybrid warfare' against Western civilization.
It's an absolutely ludicrous assertion of course, but one which is to be expected at a time when British-American monopoly over what exactly constitutes 'Western civilization' is fast eroding.
Let's take a look at England fans' behavior over the years (when no Russians were in sight)...