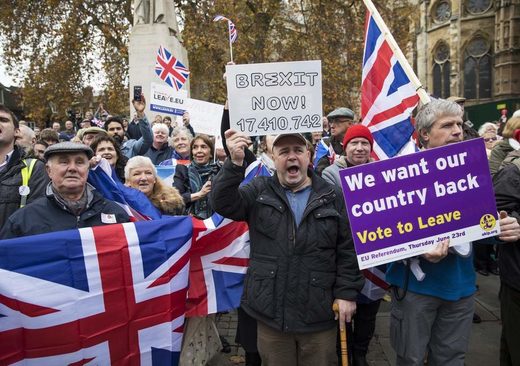 Brexit blather is back in the news again. To listen to politicians and media talking heads, you'd think it's all rather complicated and 'beyond the ken of mere mortals'. In reality, however, 'Brexit' is quite simple: for the last two and a half years, the British establishment has been trying to
make Brexit go away
.
Don't believe me? Explain why, then, that of the 650 UK Members of Parliament, about 70% come from constituencies where the majority of people voted
for
Brexit, while among all Members of Parliament
about 70% have made it clear that they favor remaining in the EU.
In addition, the Conservative government which approved the referendum in 2015 was lead by David Cameron, who has always been
against
leaving the EU. His successor, Theresa May, who negotiated the pseudo-Brexit deal that would effectively keep the UK in the EU, and which was
voted down yesterday by a massive majority in Parliament
, is also
against
Brexit.
So the obvious reason why the last 2.5 years of British politics has been an utter farce, and why the British people find themselves in this current mess, is that
while a majority of British citizens voted to leave the EU,
a large majority of their MPs on both sides of the aisle (and the British 'establishment' itself) do not want to leave the EU and are determined to make sure it never happens.
To claim otherwise would be to suggest that British politicians were as clueless about the nature of the UK's relationship with the EU as the British public. But that's not the full story.