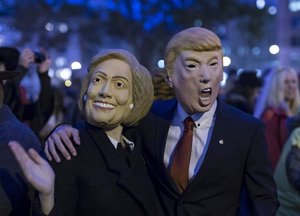 As a reasonably 'awake' person, you would be forgiven for burying your head in the sand and wishing for the unfortunate freak show that is the current US election to end by way of an accommodating giant meteor.
13% of Americans feel exactly that way
. Is that, perhaps, a good indicator of the percentage of Americans who are not lost in the bogus left-right political paradigm?
You would also be forgiven for getting too swept up in the fight against either camp, as many 'awake' people have, because there is no shortage of ammo in this battle for those on either side to use.
But if you manage to take a step back, breathe deeply and try to look at this situation objectively, a couple of unavoidable questions surface: "Why are these two freaks America's only choices? Could a population of 320 million really not produce better candidates than this?"
If you know a little about how the world actually works, then you'll know that few things happen by accident, especially in politics. A lot of things are planned by an entrenched elite that 'wins' either way. We're talking Old Money, long-time Washington power-brokers, the revolving-door system from government to top corporations and banks, think-tanks, the military-industrial complex and back into government again. In short, the Deep State, aka the 'Powers That Be' (PTB).