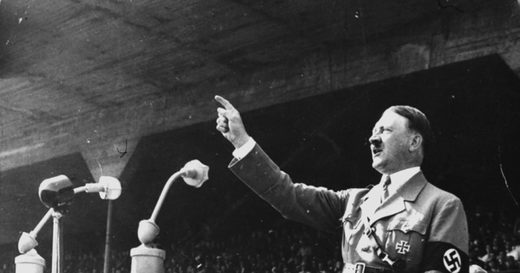 On March 5, 1933, just over a month after gaining office as Chancellor of Germany, Adolf Hitler gave a frighteningly dark speech on race relations in Germany. Here's what he had to say:
My fellow Germans, ... I am very grateful for the many wonderful opportunities to honor African-German heroes, faith leaders, entrepreneurs and the many others who changed the course of our nation. We are blessed by the lives and examples of those who have made this nation a beacon of freedom, talent, and unbreakable German spirit.

This week I had the privilege of visiting the national museum of African-German history and culture right here in Berlin. It's a new, beautiful ... museum that serves as a shining example of African-Germans' incredible contributions to our culture, our society, and our history. It also tells of the great struggle for freedom and equality that prevailed against the sins of slavery and the injustice of discrimination.

The work and love of the people who helped create such a masterpiece is a testament to the legacy of so many leaders and honors. I left that museum confident that together Germany can overcome any challenge. ... Today and every day I pledge to continue the march towards justice and freedom for all so that every German no matter his background, no matter her background, has the chance to climb that great ladder of success.
Chilling stuff.