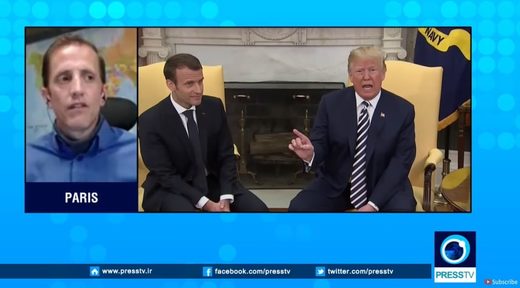 Behind all the cuddles and
bisoux
for the cameras, what was French boy-president Macron's
grande visite
to the US of A all about? What the US and France can do to retain Western dominance of the Middle East, of course!
Trump is warning Iran not to "restart its nuclear program" while (again) yammering on about the 2015 JCPOA (Joint Comprehensive Plan of Action) multinational agreement on Iranian nuclear development being "an insane, terrible deal that should have never been made."
Europe's very own 'stable genius' meanwhile spoke out of both sides of his mouth in an attempt to tame Trump's tantrum while not aggravating the Iranians, telling US officials the Iran deal can be "revisited" but should not be torn up. Iranian president Rouhani is meanwhile warning both of them about "grave consequences" if the 2015 deal is torpedoed.
What does all this bluff-and-bluster mean? And what is Trump's beef with the JCPOA anyway? Needless to say, it has almost nothing to do with the 'proliferation of nuclear weapons'...