Comment: On 31 August 1997, British Princess Diana, her boyfriend Dodi al-Fayed and their driver Henri Paul died as a result of injuries sustained in a horrific car crash in the Pont de l'Alma road tunnel in Paris, France. But was this a tragic accident, or was it made to look like one?

Diana's death caused a profound and global outpouring of grief, with her funeral on 6 September 1997 watched by an estimated 2.5 billion people. More than just a celebrity figure, Diana was loved because she used her fame to draw attention to the victims of wars her patrician peers were (and are) instrumental in causing and perpetuating.

The following article by Joe Quinn, first published in 2013, reviews the case and the findings of a British documentary (Unlawful Killing) that was screened at the 2011 Cannes Film Festival, and a couple of other film festivals, before being 'disappeared down the memory hole'.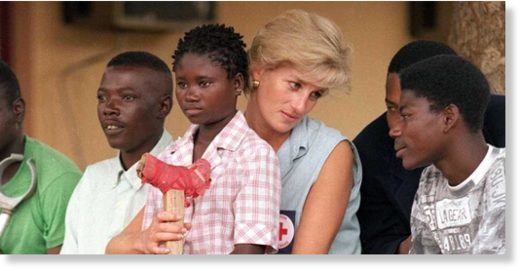 The mystery surrounding the deaths of Princess Diana and Dodi al-Fayed 16 years ago today was
revived
recently by the claims of a British SAS sniper whose testimony was part of the trial of another SAS soldier who was convicted of illegal weapons possession. The parents-in-law of
the SAS sniper in question, known only as "Soldier N", claim that he boasted to his wife that the "SAS was behind Princess Diana's death".
Unsurprisingly, the media reaction to the story has been to dismiss it, citing, incorrectly, that the investigation into Diana and Dodi's deaths was conclusive, that it was an accident, and that there was "no evidence of conspiracy". In fact, this alleged "new evidence" has done little more than provide the media with an opportunity to, once again, ridicule any idea that there was anything strange about the events in Paris that night. It is also interesting to note that, in just a few weeks, a new film about Diana's life, entitled 'Diana', will be released.
The general consensus among the great British and world public seems to be that Diana and Dodi and their driver Henri Paul died as a result of a car crash caused by pursuing paparazzi.
It's rather perplexing that this should be the case because the jury in the official 3-month-long inquiry into their deaths returned a verdict of "unlawful killing" and the paparazzi were exonerated
. How does this happen? Well, how did it come to pass that 50% of American citizens believed that Saddam Hussein was involved in the 9/11 attacks, despite the fact that no one, not one person, ever made such a statement publicly?
Answer:
The mainstream media's
real
job is not to report the news but to 'catapult the propaganda' that the 'elite' hope will become the new 'reality' or historical record.