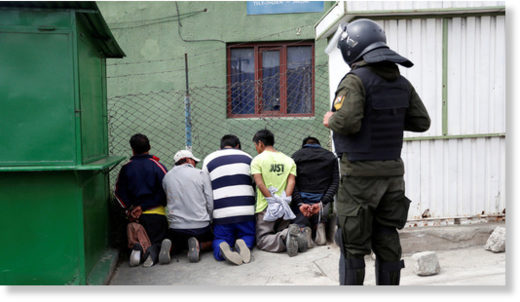 Evo Morales, an indigenous leader who bucked the IMF and condemned US imperialism, has been pressured by the military to resign after winning an election. Yet Washington calls this blatant coup in Bolivia a victory for democracy?
Morales was
re-elected as
Bolivia's president on October 20. The coup-backing Organization of American States (OAS) wasn't pleased and went ahead and interfered in the electoral process of a sovereign nation - as the US itself does so well - issuing a report that the vote result wasn't satisfactory.The
heavy funding from
the US surely has no influence on OAS policies...
In any case, on November 10, President Morales first announced a new election. Later that day, he announced his resignation, naming as reason the recent brutality of Bolivia's right-wing opposition, including
"kidnapping and mistreating"
families of indigenous leaders and
burning down
the homes of public officials.
"I resign from my position as president so that (Carlos) Mesa and (Luis Fernando) Camacho do not continue to persecute socialist leaders."
Morales was clear that his move was solely due to the violence incited opposition leaders. However, it soon
became clear
that this was a coup, not a resignation.