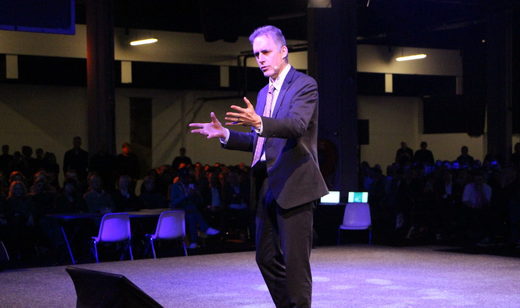 On Friday January 19th, we attended a national brainstorming event in Rijswijk, the Netherlands, on immigration and Dutch identity - '
De Nederlandse Leeuw
' (
The Dutch Lion
), organized by a non-profit organisation of the same name - at which Canadian professor of psychology Dr. Jordan Peterson spoke while on his speaking tour in Europe. Not tied to any political party, the event's organisers have reported that attendees' political preferences were diverse. On
its Facebook page
, DNL said it hoped the forum would "
help the debate on immigration/integration to move forward
," as a "
severe paralysis has occurred because of all the polarisation
" on the issue.
As the day of the event approached, the Dutch media characterized the gathering as 'new-right' and 'far-right'. Author, freelance researcher, and teacher Chris Aalberts, for example,
opined
that the event's organizers could not claim that it would be an open debate because the whole line-up of speakers was 'right-wing'. Huub Bellemakers, a member of the left political party Groenlinks, noted that "
From the look of the organizers, the speakers, the introductions and the definition of the problem, it is clear that it's a new-right meeting.
" Bellemakers was invited to attend the event, but declined to do so.
The left's characterization of the event is interesting because the organizers' original concept was to have both left-wing and right-wing speakers come together to discuss this important issue, and hopefully come up with possible solutions. But
almost all left-wing guest-speakers declined to attend
, which obviously left an impression of the event being a right-wing gathering. The left in the Netherlands - the most densely-populated country in the Western world - apparently doesn't want to discuss immigration in an open and honest way.