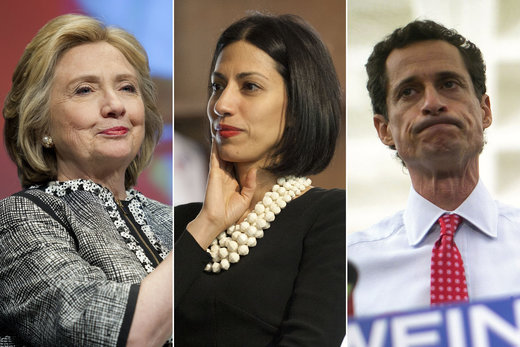 With 10 days to the election, the FBI has "reopened" their investigation of Crooked Hillary's email scandal. Given that they already let her off without a slap on the wrist (despite admitting that she did send and receive classified information, destroyed thousands of other emails, and
lied repeatedly
about pretty much every other relevant issue), this is a bit of a surprise.
What the FBI already found should have resulted in criminal charges, so what new evidence could possibly change their minds, or make it worth notifying Congress?
Comey's letter to Congress announced the discovery of 1,000 (UPDATE: make that
tens of thousands
) new, potentially relevant, emails (some of which may be duplicates of those already in the FBI's possession) discovered in an unrelated investigation. While Comey didn't mention which investigation,
FBI sources
reportedly confirmed that the new emails were discovered on devices belonging to Anthony Weiner, husband of Killary's
top aide Human Abedin
.
After
several years of scandals
where Weiner engaged in 'sexting' (and god knows what else) with various women, Weiner and Abedin separated in August after it was revealed that Weiner had, yet again, sent lewd texts to a woman,
including a picture of himself with an erection while lying in bed with his young son.
On September 21 this year, Weiner was again exposed (literally and figuratively) when the British
Daily Mail
published an article claiming that
Weiner exchanged sexually-themed text messages with a 15-year-old girl from North Carolina.
(Huma and Hillary sure have great taste in men!).
The
American Thinker
reports:
It was announced ten days ago that grand jury would be convened to investigate Weiner's sexting "by the end of the month." The timing of Comey's letter strongly suggests that the devices containing new emails were obtained through a grand jury subpoena, with no immunity deals or evidence destruction needed. If that is the case, further subpoenas are quite possible, a tool that was left unused in the investigation to date.