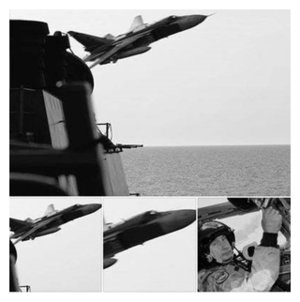 In the latest in a long series of similar fleeting engagements between the US and Russian militaries, the USS
Donald Cook
was "aggressively buzzed" last week by two Russian Su-24 jets in the Baltic sea. Reports in the Western press echoed the response of US officials who called the maneuvers of the Russia jets "reckless" and "provocative". John Kerry went as far as to suggest that the Russian jets could have been shot down: "
under the rules of engagement that could have been a shoot-down
", the US Secretary of State said. For its part, the Pentagon flat-out lied, claiming it was a "simulated attack," even though the Russian aircraft approached "wings clean," without armaments, indicating no aggressive intent.
Readers will remember that the USS
Donald Cook
was previously buzzed by a Russian Su-24 in the Black Sea exactly two years before this latest incident, on April 12, 2014. At the time, several websites claimed that the Aegis Combat System of the American missile destroyer was completely neutralized by the 'Khibiny' electronic warfare complex on the Russian jet. Since then, the manufacturer of the system, Kret,
has denied
that the Su-24 was carrying their equipment:
"Nowadays Khibiny is being installed on Su-30, Su-34 and Su-35, so the famous April attack in the Black sea on USS Donald Cook by a Su-24 bomber jet allegedly using Khibiny complex is nothing but a newspaper hoax. The destroyer's buzzing did take place. This EW system can completely neutralise enemy radar, but Khibiny are not installed on Su-24s."
But while last week's 'incident' was very much par for the course in terms of the faltering Russia/NATO relationship in recent years, the response of US officials was very instructive in highlighting what US officials really think about the resurgence of Russia over the past 10 years, and the state of the East/West 'balance of power'.