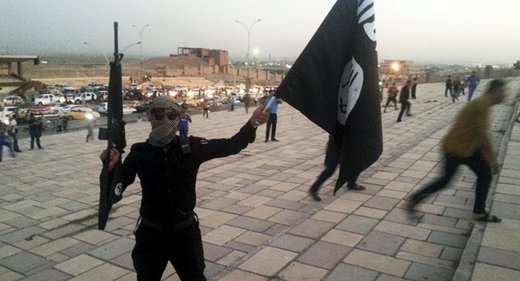 The operation to retake northern Iraq's city of Mosul from the Islamic State terrorist organization
began this morning
. Anti-Daesh "coalition" commander Lt. Gen. Stephen Townsend said the battle could last for weeks, "
possibly longer
", and "may prove to be a long and tough battle." An Iraqi military source says it could be completed in
two weeks
(just in time for the U.S.
elections
!). CENTCOM says
19 nations
are participating, which basically means Iraq, the U.S., and a bunch of hangers-on to cheer lead and maybe ride shotgun during an airstrike or two.
Daesh overtook and occupied the city in June 2014, causing half its population to flee and leaving 1.3 million civilians. The number of estimated anti-Daesh forces ranges anywhere from 30,000 to
65,000
to
80,000
, with
4,000
Kurdish Peshmerga and 24,000 militiamen, not to mention around 6,000 U.S. troops. (The Kurds have agreed with the Iraqi government not to enter the city, however.) They are set to battle an estimated
3,000-4,500 Daesh militants
(according to U.S. military estimates).
Back in
February 2015
, there were rumors that as many as 30,000 Daesh fighters were in Mosul - a number dismissed by one Iraqi officer as Daesh propaganda, the real number being closer to 12,000 fighters. In
March 2016
, CNN reported an estimate of "up to 10,000 ISIS fighters" there. And just four months ago, in June, Osama al-Nujaifi, head of United Coalition in Iraq, confirmed that there were
12,000 militants
in the city and its suburbs. At the same time, U.S. coalition Col. Christopher Garver said ISIS had "
less than 10,000
" fighters in Mosul.
In other words, for a year and a half, the number of Daesh militants in Mosul has been estimated by Iraqi and American sources at around 10,000-12,000. Now the Americans are saying there are only 3,000-4500. (And that probably
includes
the various local Baathists and Sufist Naqshbandi Army insurgents.) By those numbers, that means that anywhere from 5,500 to 9,000 Daesh fighters are MIA. Where did they go?