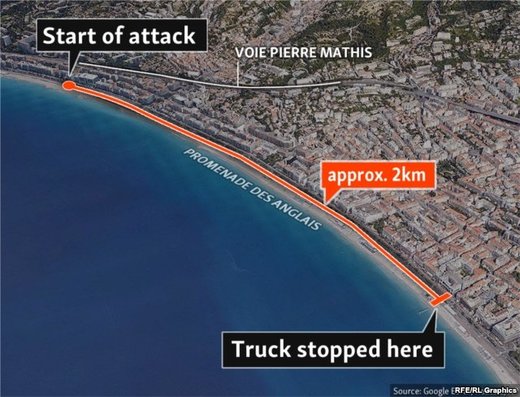 The death toll in the Bastille Day truck attack in Nice is currently at 84, with a couple of hundred injured, some still in critical condition. The driver managed to break through a barricade late Thursday evening and for almost 2 kilometers plowed through the crowd gathered to watch the fireworks. The driver has been identified as French-Tunisian Mohamed Lahouaiej Bouhlel, a non-religious petty criminal who reportedly shouted "Allahu Akbar!" before going on the rampage. He also reportedly opened fire on civilians and police, and was
killed during the shoot-out
.
The reaction from French citizens and world leaders has been predictable.
European countries tighten security following Nice terror attack
Countries across Europe are strengthening security following the Nice terror attack which claimed the lives of at least 84 people. It comes as France extends its state of emergency for an additional three months.

In a Thursday television address following the fatal attack, French President Francois Hollande announced that the current state of emergency, which was set to expire on July 26, would be further extended.

Now other European Union countries - including Belgium, the UK, Italy, Spain, Germany and the Czech Republic - are taking measures in an attempt to combat the threat of terror.
As
Gearóid Ó Colmáin
puts it, it looks like France is set for a permanent state of emergency (similar to the one the U.S. has been under ever since 9/11).
The new British Prime Minister Theresa "Big Mother" May shook her magic eight-ball and determined a terror attack in the UK is "highly likely", and the mayors of London and New York are 'reviewing safety measures' and amping up security.