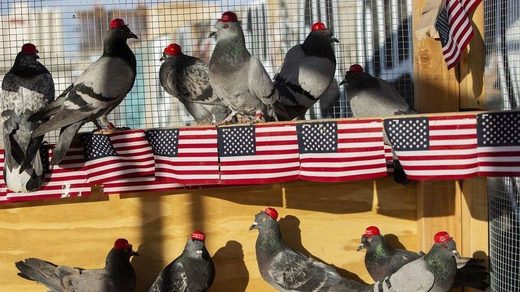 A flock of pigeons wearing tiny red baseball caps - and one wearing a Trump wig - have been released by a self-styled "underground radical group" in Las Vegas to protest the Democratic debate and support Trump.
The birds were unleashed on Tuesday evening in downtown Las Vegas to protest "the arrival of the 2020 Democratic debate" the following day, the group, which calls itself Pigeons United to Interfere Now (PUTIN, what else?), said in a statement to local media.
The stunt also served "as a gesture of support and loyalty to President Trump," who is holding a rally in Las Vegas on Thursday. The group claims they were inspired by the CIA's Operation Tarcana, in which the agency attached cameras to pigeons and send them to spy on the Soviet Union in the 1970s.
In addition to the "aerial protest piece," footage of the bird release was sent to local media to accompany the statement. The ominous video shows the birds in a coop bedecked with American flags and is overlaid with audio from the Alfred Hitchcock horror film "The Birds," in which birds turn on humans and start attacking them. No bird attacks have been reported in the vicinity of the release...yet.