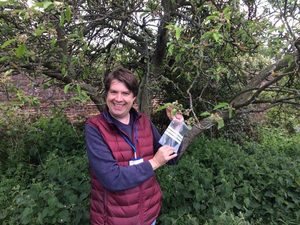 A community orchard is launching a naming competition, following the discovery of a unique type of apple growing on an Enfield farm.
Forty Hall Farm, run by Capel Manor College, said analysis of DNA samples from the tree's leaves have shown that the apple tree is completely unique and does not match any known examples in the National Fruit Collection.
Following its establishment in 2011, volunteers planted 130 heritage varieties of fruit trees as well as hundreds of fruiting hedgerow trees.
Historic maps of the farm show that an orchard existed on the same site in the 1830s.
Orchard volunteer Val Dyer said: "There are several old apple trees growing on the farm but we had no record of when they were planted or what types of apple they are.
"The fruitID.com project was launched by the world-renowned research organisation NIAB-EMR at East Malling in Kent to help improve the recording of different fruit varieties in the UK.