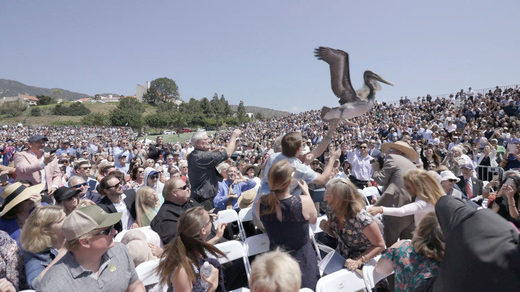 A pair of pelicans stole the show at Pepperdine University's graduation on Friday when they crashed the ceremony. Footage shows the birds swooping down on to the graduation attendees as people scream and laugh.
Their dramatic descent, however, brought graduation proceedings to a halt as the large birds menaced the crowd. One of the pair landed right in the crowd and appeared to jump from seat to seat while flapping its huge wings. Guests tried to help the pelican lift-off again, but it merely landed just meters away on the red carpet stage instead.
One proactive security guard attempts to draw the whole incident to a close and send the birds packing, but the pesky pelican is having none of it - biting the man he attempts to pick it up. The snapping bird stands its ground as the graduation continues close by.