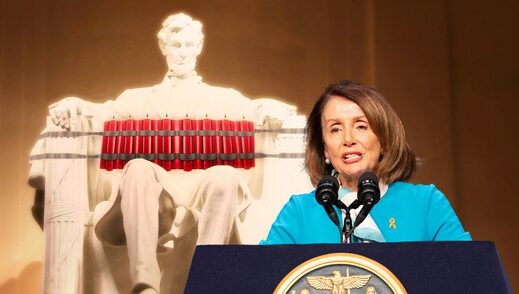 In an address to the nation written using letters cut out from a magazine and glued to paper, the Democrats are offering their most persuasive case yet for Biden's election. According to the letter, Democrats have planted booby traps rigged with dynamite all throughout the country, and they are set to explode if Biden is not elected president.
"Why so serious?" said Biden's running mate Kamala Harris. "It's just a little joke! The real joke is Trump, and we're just joining in all the fun! HEE HEE HEE HA HO HA HEE HO!"
"Vote for Biden, or the country you love will be blown sky-high -- HAHAHA!" cackled Nancy Pelosi. "If you don't want to see the Lincoln Memorial, shall we say, in a state of disrepair, you'd better vote for the old, senile man! Ha ha ha ha ha! HA HA HA HA HA HA HAAA... fnffff oh,
do
excuse me... ha ha ha ha ha! HEE HEE HEE HEE HEE HEE HEE... HAHAHAHAHAHAHAHAHAHAHAHAHA!!!!" Her heavy makeup smeared down her face as she cried in laughter, making her resemble a clown.