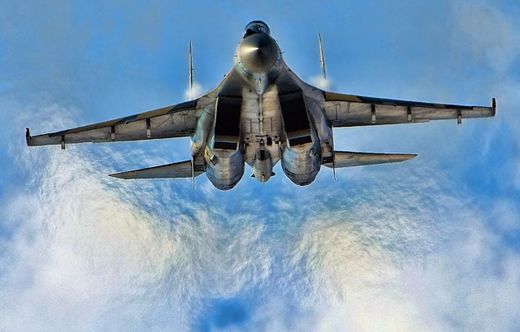 -
QPress.de
, translated from German by Tom Winter, who observes "satire is truth; truth is satire."
Moos kauen ["Chewing moss" like a Moscow dateline --tr]: This is the hammer! NATO could never have expected such an asynchronous low blow! This is equivalent to a declaration of war before 1 April! And it has caught the North Atlantic Terror Organization completely flat-footed.
No, the Russians have not choked off the air for murder and manslaughter to NATO, but to their own military. From now on, they want about 25 percent less for this nonsense.
This unique measure has made for completely perplexed faces in the western military forces
, which they either perceive as vicious cunning or hot air, as can be seen in the jet exhaust in the above picture.
The security situation has become so mixed that the West is considering increasing armament spending by at least as much as the Russians pare it down. It contradicts every logic of a good enmity, simply wanting nothing more to do for the eclat. Can even the most doofus enemy be so doofed? But let's try to collect the facts first and read on to this enmity: Aggression light: Russia shortens its military by more than 25 percent ... [RT-Deutsch]. Undoubtedly, the bread can be used for some better purposes but for the Russians. This is disturbing.