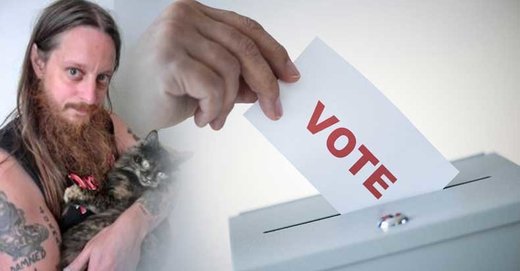 Gylve "Fenriz" Nagell, a heavy metal musician with the band "Darkthrone" was recently elected to his town's council, against his will. Fenriz has no interest in politics, but in his area that doesn't matter —
if you are nominated and elected, you have earned the position whether you like it or not.
When Fenriz was first nominated for the position, he put signs up for his campaign showing him holding a cat, with the words "Please Don't Vote For Me." Naturally, the campaign backfired and everyone loved the signs, and eventually did vote him into office.
Speaking in a recent interview with
CLRVYNT
, Fenriz said,"I got voted in as a politician — involuntarily, I might add. So, I've got some support, I guess. But Kolbotn is a tiny place, maybe 9,000 people."