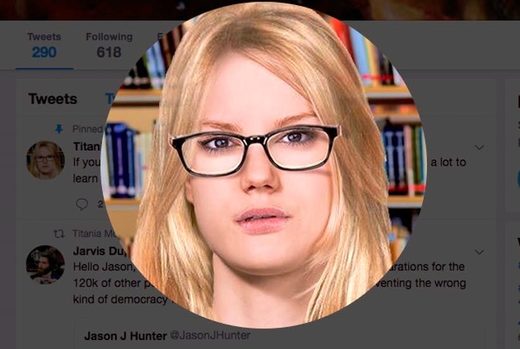 Titania McGrath
, 24, is a radical intersectionalist vegan activist, feminist slam poet and the author of
Woke: a Guide to Social Justice
. She won't meet me in person for security reasons - she fears doxxing - or send me a photograph of her face. Rather, she consents to an interview by email from her gîte in the Buis-les-Baronnies district of France, where she is 'working on a new anthology of slam poetry which will end the patriarchy' in the nude. This is from her poem Cultural Appropriation:
Plunderbeast of history.

My ancestors scream in your hollow wigwam,

Ghostrolling in the ectoplasm of your hate.

I staunch the flow of simpering tribal sauce,

A digital sombrero clings deafblind

To a face falsely smeared in a coalish hue.
She wrote
Woke
because,
'I was permanently banned from Twitter for a whole day. This gave me time to reflect on my subjugation as a woman in a patriarchal world and write a book about my oppression. The entire document is a masterpiece unparalleled in the history of the written word'.
I am not sure a book dedicated to the destruction of the Capitalist patriarchy should be available on Amazon but there is no contradiction for Titania:
'I'm attempting to destroy the capitalist system from within, and the only way I can do that is to make a shit-load of cash'.