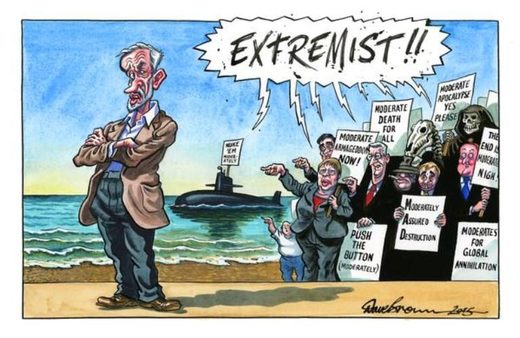 Everyone agrees Labour's leaked manifesto will take us back to the 1970s, which is why we must re-elect the Conservatives so they can embrace the future, with policies such as bringing back fox hunting.
Nothing says you're grasping the digital age and leaving the past behind as much as dressing in a red tunic and galloping over a fence with beagles so you can catch a fox and celebrate its liver being ripped out by smearing its blood on your child's cheek. That's the sort of futuristic vision you'd get from a brainstorming session at Apple.
Hopefully the Conservative manifesto will delight us with other super-modern concepts, such as replacing IVF with a fertility dance, and funding pensions by making men over 65 sell their wives at the market.
Everything Labour proposes involves taking us back in the same way. Several Conservatives have taken issue with Labour's pledge to be "extremely cautious" before using the nuclear deterrent. What sort of 1970s nonsense is that? If you're going to be extremely cautious about dissolving millions of civilians in an apocalyptic firestorm, you might as well bring back outside toilets and
On the Buses.
Instead of caution, Labour should get with the times by promising to set off a nuclear warhead if a five game accumulator comes up on Bet365. This is the excitement we crave, knowing that if West Bromwich Albion don't get an equaliser that's the end of Helsinki.