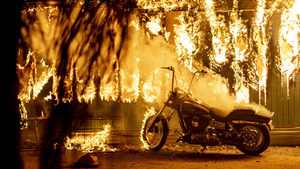 The Woolsey Fire in Malibu, California, November 10, 2018
For the great enemy of the truth is very often not the lie - deliberate, contrived and dishonest - but the myth - persistent, persuasive, and unrealistic. Too often we hold fast to the clichés of our forebears. We subject all facts to a prefabricated set of interpretations. We enjoy the comfort of opinion without the discomfort of thought.
- John Fitzgerald Kennedy
Recent Comments
From PCR -- Perhaps a very worthwhile read for Brits ... [Link] Nigel Farage:- "When I formally met the EU's chief Brexit negotiator Michel...
---
Plants and fungi did not consent to be eaten either... so..
---
I think it depends on the complexity of the action. The more complex an action is, the easier you forget it. I play guitar and while I will never...
---
What happened? You are a thunder #unt and everyone hates you...
---
Need I mention the absolute worst case... Anatoly Golitsyn "New Lies for Old" and "The Perestroika Deception". Only current defender of this...