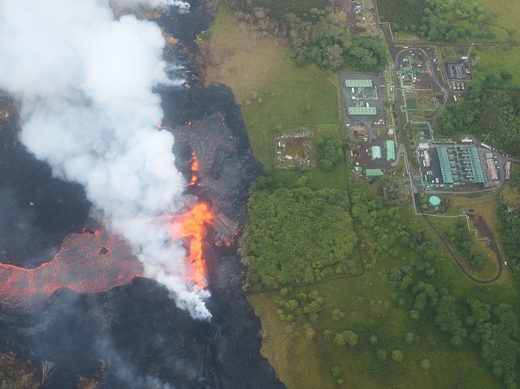 Updated at 5:27 p.m. ET
In the weeks since the Kilauea volcano began
belching lava
into Hawaii's residential areas, the fiery flow has destroyed dozens of structures and covered scores of acres on the Big Island. But authorities fear its destructive reach could ravage at least two more cornerstones of the state: its power supply and, a little less tangibly, its all-important tourism industry.
On Monday evening local time, the Hawaii County Civil Defense agency announced that lava from nearby fissures had begun to encroach on the southern edge of a
significant source
of the Big Island's power, the
Puna Geothermal Venture
.
The plant harvests hot liquid and steam from underground wells to drive turbine generators for electricity, which is then sold to
the state's utility
.
Another risk, besides the loss of power, rests in what might happen if the lava overcomes the state's protective measures:
"There's a steam release, there's many chemicals, but primarily the critical factor would be hydrogen sulfide, a very deadly gas
," Hawaii's Emergency Management Agency chief, Tom Travis,
told reporters
Monday night.