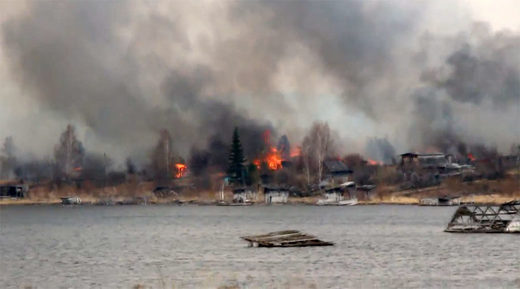 Rescuers have managed to save all the residents of a Russian village before the settlement located on an island in Irkutsk Region burned to the ground. The spread of wildfires across Siberia has prompted authorities to declare a state of emergency.
Hundreds of people were trapped in the village of Bubnovka surrounded by water as a massive fire was ripping through their homes. Luckily for some 435 residents, local Emergencies Ministry staff were conducting anti-flood drills in the area and rapidly reacted to the incident.
Responding the distress call, they rushed to the scene to evacuate the villagers. Using an air cushion rescue boat, the responders brought people to safety.
No one was harmed.
Despite efforts by the local team of firefighters, the entire village of 86 houses burned down in the suspected wildfire,
the governor's press service
told
RIA Novosti.
"It was impossible to bring additional [firefighting] forces because of the fact that Bubnovka is located on the island. Gusty winds contributed to the spread of fire," the governor's office said.
The Investigative Committee, however, has opened a criminal case to see if any negligence was involved.