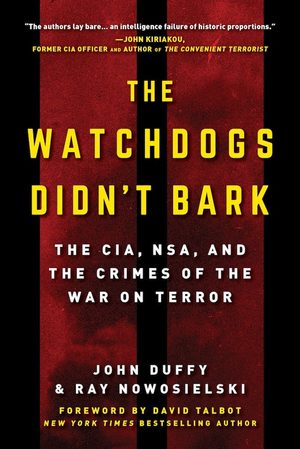 The book
The Watchdogs Didn't Bark
by John Duffy and Ray Nowosielski, with new insider interviews and documentary evidence, convincingly establishes that
named people at the CIA and NSA actively prevented the FBI from learning information that could have disrupted the 9/11 plot
. Principals at these agencies
manipulated government investigations to cover up responsibility, and to exploit the public's fear after 9/11
in order to justify the so-called 'war on terror', the Iraq invasion, torture, the NSA's massive warrantless domestic spying programs, indefinite detention and extrajudicial killing even of Americans. The authors don't claim to have proved that US government officials deliberately allowed or facilitated the 9/11 plot,
but that's what the actions and inactions of key people accomplished
, and the Establishment has rewarded their incompetence or criminality. The authors quote Stafford Beer: "The purpose of a system is what it does." While 'serendipity' for the Military-Industrial Complex may be in the range of theoretical possibility, official responsibility for 9/11 and its evil consequences remains an urgent issue for the People of the US and the world, along with establishing effective public oversight of government and elite power.
This case has been made effectively by others*, but the Duffy-Nowosielski
Watchdogs
book is significant, as it's the kind of book that 'serious people' take seriously. So seriously, that when the authors posted their
Richard Clarke video "Interview #7"
in 2011,
DCI George Tenet, CTC Director Cofer Black and CIA Alec Station (Bin Laden Unit) Chief Rich Blee released a joint public statement
denying Clarke's shocking allegations
- that they had been running an illegal domestic CIA spy operation with Saudi help. So seriously, in fact, that
the CIA threatened the authors with criminal prosecution if they revealed some of the names in this book
(7-9, 239-245). Other journalists have declined to name these public officials, while reporting on their criminal involvement.